How to use drones for crime and accident scene documentation
The most forward-thinking public safety agencies are turning to drones to accelerate and improve their crime and accident scene documentation processes
---
Content provided by Skydio Inc.
Mapping and documenting accident crime scenes pose significant challenges to law enforcement officials.
Traditionally, accident reconstructionists had been limited to simple photographs and measurements to document the scene. For car accidents, reconstructionists were unable to capture top down imagery that would show the relative positions of the cars in 3D space, this significantly limited the quality of the evidentiary data.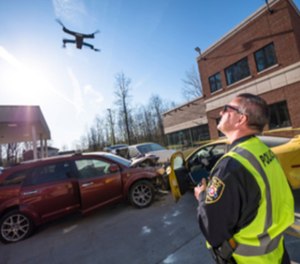 Another side effect was the societal disruption of closed lanes during the lengthy process of evidence documentation. Drones have amazing potential to solve many of these problems.
However, manual drones cannot be trusted to fly up close to these kinds of accident scenes. The complex area around a car crash with street signs, other cars, people, vegetation and structures is difficult for a manual drone operator to navigate near.
To capture a car crash, a manual drone operator would have to maintain a long standoff distance from the scene, and rely on an expensive and delicate zoom camera to generate precision imagery from a high-altitude grid pattern.
Even then, some of the sides of the cars would be obstructed due to the long standoff distance and other obstacles in the way such as trees, street signs and barricade walls. For crime and accident scene reconstruction, Skydio's adaptive mapping algorithms programmed into Skydio 3D Scan give the drone the ability to iteratively design a structure-specific 3D scanning path, and follow it with full obstacle avoidance engaged.
As a result, the drone will fly this scanning path and can capture hundreds of images up close, from multiple angles, giving the accident investigators a holistic view of what happened.
This ability to create a 3D digital twin provides the necessary context of vehicles in an accident that is hard or impossible to capture with a 2D flight pattern map (orthomosaic) or still photography. With 2D capture patterns, the operator is creating a top down or satellite view of the scene, but fundamentally limits the amount of information collected by the reconstructionist.
Being able to understand what is happening on the sides of the accident and to fully see the depth of the scene is where the real value of having a 3D model comes from. Being able to accomplish all this with minimal operator preparation and in record time to minimize the societal impact is where the unique value of Skydio 3D Scan is realized.   
Mock Car Crash 3D Model 
Below is an example 3D model of a mock car crash, generated with a Skydio 2 and Skydio 3D Scan. The photos are taken at 7.2 feet (2.2 meter) from the structure, providing a 0.927 millimeter ground sampling distance, and 422 photos total.
In the selected shots, it is clear that the drone captures every angle of the car crash, especially the sides of all three cars, where manual drones cannot fly safely, because of the close proximity to the buildings on both sides of the street. As an accident report, this model would show the exact impact points and locations of even the smallest details on the car.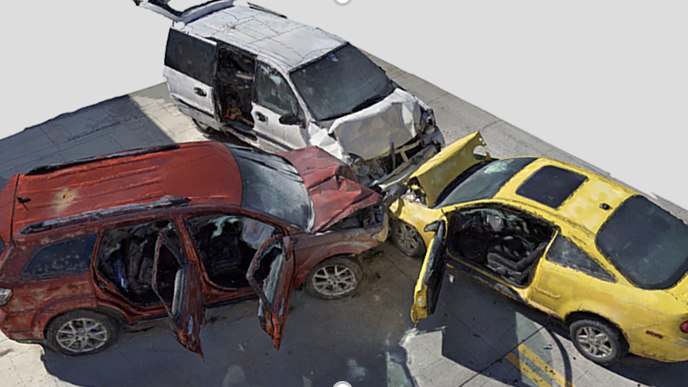 Best Drones for Crime & Accident Scene Documentation 
Skydio is unique in the drone industry stemming from the fact that they are assisted by Skydio Autonomy, an AI-powered autonomous flight engine supported by a computer vision navigation system, that makes their drones easier to fly than anything else on the market.
Having a drone that is easy to fly and nearly impossible to crash reduces the training burden of agencies which lowers costs. Additionally, Skydio is an American company that has a high level of supply chain security and serves as a trusted partner to many state, federal and local government agencies.
Skydio 2+: Skydio's most popular drone which brings autonomy to public safety workflows. It features a 12MP camera, and six 4K color sensors used to support Skydio Autonomy Enterprise enabling true 360° obstacle avoidance in every situation and up to 27 minutes of flight time.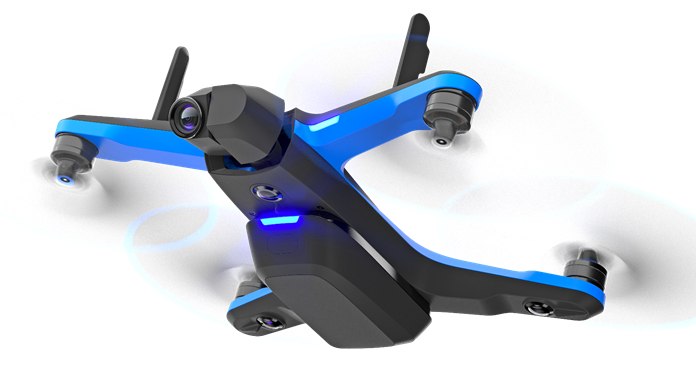 Skydio X2E: Pairs the breakthrough Skydio Autonomy engine with a ruggedized airframe that features a color or optional dual color/thermal sensor, long-range operations and extended battery life for up to 35-minute flight time.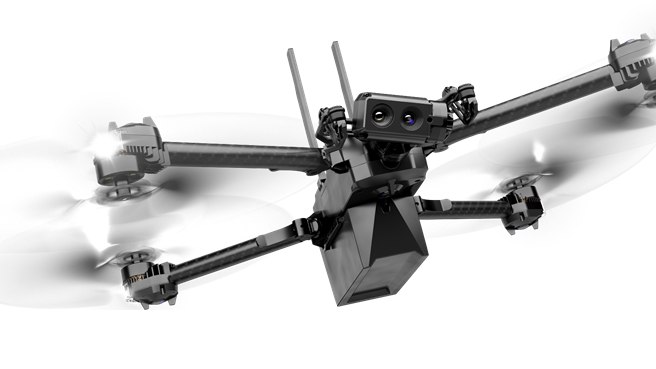 The Best Law Enforcement Scene Documentation Software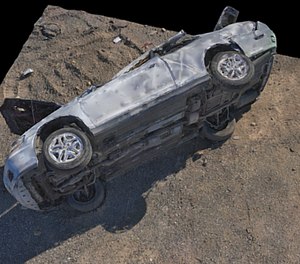 Skydio 3D Scan: The first-of-its-kind adaptive scanning software built on top of Skydio Autonomy. 3D Scan allows the drone to automate the data capture process needed to generate 3D models with comprehensive coverage and ultra-high resolution, so that crews can perform higher quality scans in less time and with minimal pilot training. 
Easy Integration with Axon 
Law enforcement agencies working with Axon for evidence management and flying Skydio drones have the ability to automatically upload photos and video to Axon Evidence. This seamless integration makes using Skydio drones for law enforcement seamless and makes integrating Skydio drones into their existing workflows a breeze. 

Request information from Skydio
Thank You!