PRESS RELEASE
New Leica Map360 v4.0 scene diagramming software is intuitive and powerful
---
NORCROSS, Ga. — Leica Geosystems, a Hexagon company, has released the latest version of Leica Map360 crash and crime scene diagramming and reconstruction software, bringing three editions to meet specific customer needs based on the technology used to measure and collect any scene.   
With an entirely new user experience (UX) and interface, Map360 v4.0 simplifies incident reconstruction activities for investigators, reconstructionists and other public safety personnel. With 2D intuitive workflows, Map360 Sketch offers a program designed to create basic diagrams, floorplans, and reports from manual measurements, imported points, or UAV imagery. At an intermediate level, Map360 Standard works with total station and GNSS technology introducing 3D capabilities and tools as well as animation. Map360 Pro is directed at those using workflows that result in the creation of a 3D point cloud, such as laser scanners and UAV photogrammetry, offering advanced 3D capabilities and point cloud support.
"This has to be the best release, yet. The majority of our scenes will use the body poser feature to show an accurate reconstruction of the scene," said Special Agent Scott Kraft of the North Dakota Bureau of Criminal Investigation, a beta test user who provided the product team a full review of the software. "Map360 was a quality product prior to this, but the newest version definitely adds a lot of appeal to the software in terms of ease of use." (Read more reviews here)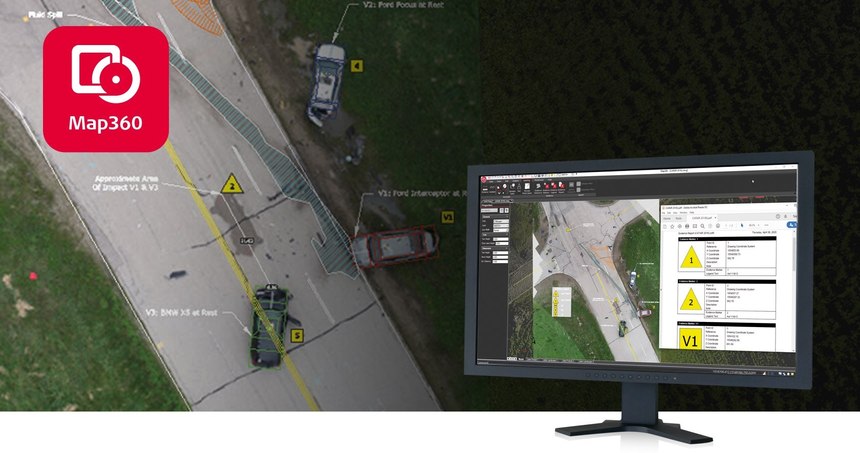 Digitize. Analyze. Present.   
Public safety officials can now digitize the narrative, analyze the evidence, and present the facts easier, quicker and more accurately with Map360 v4.0. The critical details of a scene can be visually communicated to judges, juries and other law participants with meticulous diagrams, pre-incident plans, incident reconstructions and other court-ready exhibits with the several new updates in the latest version of the software. Upgraded features include streamlined commands, enhanced properties and grips, interactive objects, increased symbols, body poser, and eight language versions. Other new offerings in the software are an intersection wizard, momentum angle calculator, image scale, points auto connector, QA reports, REGISTER 360 ortho images and geotag support and silhouette mode.
"Public safety authorities need digital solutions to help protect communities and bring swift and thorough justice," said Chenel Cordonier, Forensic Product Manager for Leica Map360.  "In developing the latest version of Leica Map360, this need was our forethought. We aimed to provide the right software for whatever instrument was used on the scene, ensuring we can support all users in their critically important and essential work. With the new UX, more intuitive workflows, and CAD at the core, all levels of experience and scene complexity can work with Map360 from basic diagramming to advanced point clouds."
Download a demo to explore whether Map360 v4.0 is right for you. 
About Leica Geosystems Inc.
Leica Geosystems, part of Hexagon, is the standard in 3D laser scanning and digital scene mapping and documentation for public safety and forensics. We provide the tools you need to do the job quickly, precisely and reliably.
Our laser scanners provide industry-leading speed, data quality and range, along with survey-grade accuracy and a rugged design; the ability to geo-tag evidence photos in the field and register data sets in real time so you can share 3D exhibits at the push of a button; and a compact, tactical design that makes quick work of scene documentation.
But laser scanners are just one of the many innovative solutions that make Leica Geosystems the world leader in geospatial measurement solutions. We also offer vehicle-based and wearable reality capture, fast and easy-to-use total stations, and calibration-free GNSS rovers. Our powerful software pulls together data from all sensors to allow you to easily import, process, analyze and visualize data to create clear, concise, court-ready deliverables.
Add to this experienced support and efficient workflows, and you have a complete solution that increases safety, facilitates quick scene documentation, saves money and substantially reduces the likelihood of errors.

Request more info from Leica Geosystems Inc.
Thank You!