3 tips to adopting FirstNet
A West Virginia county takes a whole-community approach to implementing broadband
---
By Lori Stone
Matthew Gregg has served in his volunteer fire department in Mason County, West Virginia, for 20 years, working as an EMT and in the 911 center.
Now, as the director of the Mason County Division of Homeland Security and Emergency Management (DHSEM), he oversees various areas – such as code enforcement and flood plain management – as well as the County's response to the COVID-19 pandemic. He has also been a driving force in testing and rolling out broadband communications to the county's public safety agencies.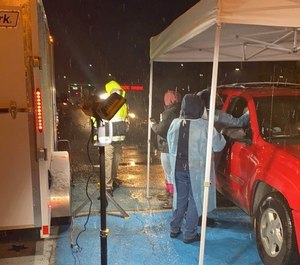 Testing broadband for public safety
The decision to integrate broadband into public safety communications was not immediate for Mason County. A lot of thought and work went into the county's testing and planning efforts, beginning in Spring 2018.
"My office manages the physical addresses for the E-911 service so we're constantly on back roads and away from the busier areas, so we took advantage of that to do drive testing," Gregg notes. "We said here's your phone, here's your device, go do your job, and report back if it didn't work. We made it to where we were doing that work – testing broadband offerings – while we were doing other things."
Gregg's team tested a variety of phones and wireless hotspots while they were in the field. He recognized that performing these initial steps would save a lot of time down the road, ensuring the broadband solution selected met the community's needs.
As part of this testing, Gregg and his team evaluated a then-new broadband network known as FirstNet. Designed with public safety's input and through a public-private partnership between the federal government and AT&T, the network offered many of the capabilities and coverage Gregg was looking for.
"We had a new tower that fixed a huge dead spot, and it made the network that much better," Gregg explained. "Once we started testing and getting everybody on board, it took off like wildfire."
Community safety in Mason County
Today, FirstNet is used by multiple agencies in Mason County, including the DHSEM, 911 agency, sheriff and police departments, and Point Pleasant Police Department. Gregg is especially proud that the County's three EMS stations are operating entirely on FirstNet. More recently, the County Board of Education moved over to FirstNet, and Gregg said there are plans to use AT&T's enhanced push-to-talk service to augment school safety.
A substantial number of first responders have also signed up for FirstNet service on their personal phones. DHSEM has overseen the adoption of FirstNet by many of its volunteer fire and EMS providers, who are not provided cell phones by their agencies, as well as Sheriff's deputies.
Gregg explained, "Just because you're off duty, you're not off duty. They need to have the ability to communicate 24/7. They're seeing the good that FirstNet is doing, and they're jumping all over it."
Rolling out broadband in West Virginia
A long-time interest in technology has helped Gregg when it comes to getting the attention of FirstNet-eligible agencies, including public health and the school system. "As a first responder, it's hard to take the word of someone who has not 'been there and done that.' Being in emergency response for 20 years now, it's a little different when I come to them and say, 'Hey, we really need to jump on board with this.' They say, 'OK, well you've been there. You've been boots-on-the-ground, and you're now in management. We can take your word a little better.'"
Gregg also said a good working relationship with the FirstNet team helps in understanding and meeting the needs of public safety.
"It's nice to be on a first-name basis with them. If there is an issue, we call and they've been very responsive to requests. For example, we found a tower site that was maxed out at its capacity. We worked with the AT&T engineering team, and they sent engineers from Columbus, Ohio, to do drive testing and upgrades. It worked out well for all of us – not just first responders, but commercial customers as well."
As Gregg reflected on the testing and evaluation plan he oversaw, he has 3 pieces of advice for implementing FirstNet:
Test the carrier's coverage and devices
Ask hard questions
Don't expect everything to be perfect at the start
"Our biggest roadblock was with the devices," said Gregg. "We deployed 45 routers to our law enforcement to do mobile CAD. We had a learning curve on getting everyone on board with the devices and how it works, but we've had no issues with service."
That learning curve is something to be expected, Gregg said. "There are always little things that you have to do to make it your own, and you should do that. Have a good plan for implementation. And don't be afraid to say you want help testing. We asked an engineer to meet us and show us it worked." He also noted the importance of adopting a "whole of community" approach when planning and rolling out the system. "Get everyone on your planning team, including health, schools, transit, on the same page so you're all working together."
Gregg said the County's goal is to make sure everything they do related to broadband is "future proof." DHSEM is considering how next-generation 911 could work with pictures and live video. And Gregg's team is exploring devices that will allow them to monitor their land-mobile radio towers and provide additional security in remote locations.
"Having FirstNet is great because when the large incidents happen, they're always in a populated area. And if we were on the same network as everyone else when something bad happens, you can't make a phone call. We have that extra assurance that our mission is going to be accomplished safely and accurately," Gregg said.
---
Learn more
How to buy FirstNet devices (eBook)
Download this Police1 FirstNet devices buying guide to learn key steps for product selection, purchasing and implementation
---
About the author
Lori Stone is a senior public safety advisor for the First Responder Network Authority (FirstNet Authority). She is responsible for outreach and consultation with local public safety agencies. She most recently served as Maryland's single point of contact for the FirstNet Authority. In this role, she was responsible for the development and implementation of the outreach and state consultation strategy to engage public safety in FirstNet planning efforts. 
Lori also spent several years working on the legal, operational and planning requirements for the deployment of Maryland FiRST, the statewide 700 MHz public safety radio communications system. She also served as the grant manager for two public safety communications federal grant programs.
Lori has worked as a National Capital Region Planner at the Maryland Emergency Management Agency; developed public education and media campaigns for emergency preparedness; and drafted and exercised Continuity of Operations Plans for higher education institutions, hospitals, and non-profit organizations. 
She has a bachelor's degree in mass communications from Towson University and a Juris Doctor from the University of Maryland School of Law.
Request product info from top Dedicated Public Safety Networks companies
Thank You!