Digital Edition: Understanding and implementing FirstNet
In this free guide, we outline how to prepare your agency and personnel for communications in the FirstNet era
---
"Understanding and implementing FirstNet" is the latest Police1 Digital Edition. Prepare your agency for the FirstNet era with this free P1 guide.
Fast, powerful and reliable communications systems have always been vital for effective public safety response to natural disasters and manmade mass casualty events. But as technology expands the array of digital tools available for public safety operations, nationwide access to a reliable communications network on a daily basis is now paramount.
Enter FirstNet, the nationwide, public safety broadband network. It enables first responders to send and receive text, voice, video, images, location information and other data in real time to help increase situational awareness and operational capability in the field. It offers guaranteed priority and preemption over a secure, dedicated network.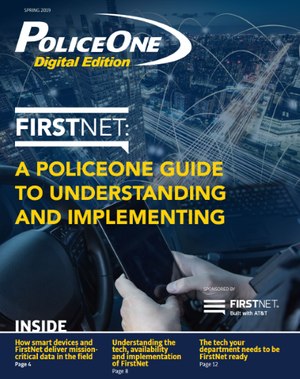 But how do law enforcement agencies transition to using the network? How does a department subscribe and what devices are required?
Download this digital edition, sponsored by FirstNet, to learn:
How to use the network with smart devices to deliver mission-critical data in the field
How agencies and individual LEOs can best utilize this dedicated first responder communications network
The equipment that agencies need to be FirstNet ready
Questions to ask during a tech consultation
To download your free copy of the "Understanding and implementing FirstNet" Digital Edition from Police1 fill out this form.