How smart devices and FirstNet deliver mission-critical data in the field
Mobile technology has become a force multiplier for public safety, improving overall situational awareness and the effective use of limited resources
---
This feature is part of our PoliceOne Digital Edition, a supplement to PoliceOne.com that brings a sharpened focus to some of the most challenging topics facing police chiefs and police officers everywhere. To read all of the articles included in this issue, click here.
By Dale Stockton
For more than three decades, police officers across the country have utilized in-car computers to conduct basic data queries and handle computeraided dispatch (CAD) responsibilities. Although these devices have served the profession well, their functionality is severely limited outside of the patrol vehicle.
A rapidly emerging trend is to utilize smartphones to "untether" officers and provide the same functionality as an in-car computer, but without regard to assignment or proximity to a vehicle. In addition, bike or foot patrol officers, motor officers, plainclothes details, marine units or school resource officers now have the same info-exchange capability previously limited to those with access to a desktop or vehicle computer.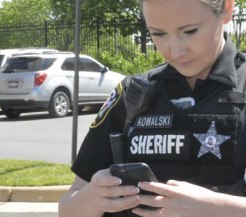 A smartphone can empower these officers with mission-critical, real-time data wherever operations take them, increasing their situational awareness and overall productivity – regardless of assignment.
Even at their base level of functionality, smartphones provide a high level of utility that has already proven itself in the field. An officer can do follow-up calls with witnesses, contact parents of a detained juvenile or check space availability at a mental health facility, without having to use valuable radio or dispatch time. The smartphone's photo, video and audio recording capabilities mean that officers can effectively document a crime scene or record a witness interview. Access to the internet enables officers to identify unknown pills, access legal resources and even use Google Translate to assist a foreign traveler or get basic details from a non-English speaking victim. Combined with new peripheral technologies, such as thermal imaging, smartphones can provide advanced capabilities on a broader scale than would have been available with a costly, single-purpose device.
Public safety broadband and the FirstNet advantage
Although the rapidly expanding capabilities of smartphones have huge potential, many public safety leaders have been slow to rely on mobile for missionessential data transfer and communications due to concerns about reliable connectivity.
Conventional cellular networks can become overloaded and, as the dependence on data increases, bandwidth limitations often restrict the ability to effectively share essential information. Major incidents involving large numbers of personnel are particularly challenging, especially when they occur in densely populated areas where there is competing demand for cellular bandwidth. At times when they're most needed, traditional cellular networks can become so congested that public safety cannot depend on them for essential transmissions.
Fortunately, agencies now have a communications option never before available: a dedicated public safety broadband network – FirstNet – that is specifically designed to support first responders by assuring priority access even when conventional wireless networks are overwhelmed.
FirstNet ensures public safety personnel will always have priority access to a network capable of transmitting large volumes of mission-essential information, including video, high-resolution photographs, geolocation services and access to cloud-based data such as detailed maps of critical infrastructure.
Increasingly, mobile technology has become a force multiplier, improving overall situational awareness and the effective use of limited resources. FirstNet ensures that data gets to those who need it, when and where they need it, regardless of other demands placed on the network. FirstNet prioritizes public safety data traffic and makes it possible for police, fire and EMS personnel to use their technology assets without concern that they will be hampered by a congested or overtaxed cellular network. When necessary, FirstNet will actually preempt other users to ensure public safety operations can be completed.
The critical role of public safety broadband
The convergence of technologies including smartphones, NG911, Internet of Things (IoT) and cloud-based operations will present opportunities unlike anything we've previously seen in public safety. However, without prioritized connectivity, none of these powerful tech components can be relied upon and that's not acceptable in a public safety environment.
Clearly, the operational confidence provided by FirstNet is the foundational element that supports all the other components. With a network that is prioritized for public safety, first responders can be assured that their mission-critical information is riding on a network that will deliver the information they need, when and where they need it. A dedicated public safety network means that agencies can embrace a mobile-first approach and smartphones can fully support the concept of a connected first responder, improving efficiency, safety and situational awareness.
Many agencies are already engaging with FirstNet and, as the network matures, the operational capabilities and effectiveness will continue to improve. Coverage will be extensive and will ultimately provide wireless service to rural areas that have not previously had the option of anything other than hardwire data transfers or slow speed data exchanges over radio channels. Regardless of agency size, the potential is great and will allow agencies to respond more effectively because they can leverage powerful force multipliers made possible by today's smart devices and FirstNet.
---
About the author
Dale Stockton is a 32-year-veteran of law enforcement, having worked in all areas of police operations and investigations and retiring as a police captain from Carlsbad, California. He is a graduate of the 201st FBI National Academy and holds a master's degree in Criminology from the University of California, Irvine. He has served as a Commissioner for California POST, the agency responsible for all California policing standards and training. Dale is the founder of Below 100.
Request product info from top Dedicated Public Safety Networks companies
Thank You!