The tech your department needs to be FirstNet ready
Here's what procurement officers need to keep in mind to ensure their department gets optimal FirstNet connectivity and capability
---
This feature is part of our PoliceOne Digital Edition, a supplement to PoliceOne.com that brings a sharpened focus to some of the most challenging topics facing police chiefs and police officers everywhere. To read all of the articles included in this issue, click here.
By James Careless
Compared to Project 25 and other public safety communications advances, FirstNet represents a relatively low-cost, low-risk investment for law enforcement agencies. Yet there are points that procurement officers need to keep in mind, to ensure their department gets optimal FirstNet connectivity and capability.
Most late-model smartphones work with FirstNet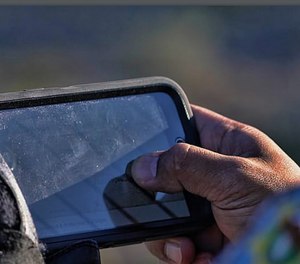 Assuming they are compatible with the AT&T cellular network (since AT&T is the official carrier of FirstNet), most late-model smartphones can connect to FirstNet.
"If your Android or Apple iOS smartphone is 4G/LTE, then it will likely connect without issues to FirstNet via AT&T," said FirstNet Senior Advisor Bill Schrier. "But older 3G or 2G phones won't work."
In the same vein, late-model rugged handhelds/ hotspot routers/trunk modems and laptops/tablets equipped with 4G/LTE wireless connectivity will work with FirstNet as well.
To make purchasing decisions easier, FirstNet has created a Phones & Devices web page that details which phones and devices are compatible with FirstNet via AT&T.
In the smartphone/rugged handheld/hotspot router category, they include:
AT&T Unite Express 2 Mobile Hotspot
iPhone Xs, Xs Max, and XR (iOS)
Kyocera Duraforce PRO 2 (Android)
LG K20, Stylo 4+, V35 and V40 ThinQ (Android)
Moto g6 play (Android)
Motorola Solutions LEX 11 (Android)
Nighthawk LTE Mobile Hotspot Router (Android)
Samsung Galaxy A6, J3, J7, Note9, S9, S9 Plus, S10, S10+, S10e (Android) sm
Sonim XP5S and XP8 (Android)
FirstNet-capable laptops and tablets include:
Dell Latitude 5420, 5424 and 7424 laptops
iPad Air mini, and Pro 11" and 12.9" (third generation) tablets
Toughbook 33 and 54 laptops
Samsung Galaxy Tab A and S4 tablets
Finally, FirstNet-capable modems and routers include:
Cradlepoint AER1200-1200M branch routers
Cradlepoint COR IBR-900-1200M and COR IBR1700-1200M vehicle routers
Cradlepoint MC400-600M and MC400-1200M modular modems
Rocket IoT - XLE modems
Sierra Wireless Airlink MP70 and MG90 vehicle routers
Make sure you're running the latest operating systems
To ensure FirstNet will run on your wireless device, the operating system needs to be up-to-date.
"On iPhone, you need iOS 12 or later," said Schrier. "On Android, you'll also need the latest OS."
Windows won't be a problem if you are running Windows 10, which is constantly being updated by Microsoft.
Use the FirstNet SIM card
Although public safety subscribed to FirstNet can use the AT&T SIM card to access FirstNet services, it makes sense to swap this SIM for the FirstNet SIM card provided to all FirstNet subscribers.
"Even though AT&T does give FirstNet users priority and pre-emption on its other channels, using the FirstNet SIM Card also ensures that you get full access to all of FirstNet's features," Schrier said.
When in doubt, call for help
Having trouble setting up your devices? Call 1-800- 574-7000, the AT&T help line that is strictly limited to FirstNet customers. It is open 24/7, 365 days a year.
Help can also be found online.
The bottom line
Before buying any wireless equipment to work with FirstNet, review the Phones & Devices web page first. Given the fast pace of equipment rollouts, there may be new devices listed that weren't available when this article was written.
Do not try to "get by" with existing equipment that isn't certified as FirstNet-capable, even if it seems to function on the network. You don't want to discover that issues exist during a life-and-death situation – which is usually when technology problems occur.
Questions to ask during a FirstNet consultation
Having a checklist of questions to ask during a tech consultation is key to ensuring the decisions you make will be beneficial for your agency in both the short and long term. 
From knowing which FirstNet rate plan works best for your agency to understanding potential rural coverage challenges to downloading the apps that will best serve your department's needs, use this checklist to ensure an effective technology consultation.
The relative simplicity of the FirstNet system – at least when it comes to setup and equipment requirements – makes it possible for police departments to make their own purchasing decisions without third-party expert help.
This said, adding complex components like a Mobile Device Management System (to centrally manage device configurations, apps and security authorisations) may necessitate third-party support.
Here are the questions to ask:
What is your expertise in provisioning FirstNet systems for police departments?
Can you provide references from other departments to validate your claims?
What is your process for deciding what kinds of equipment a police department needs for optimal FirstNet performance?
How do you determine what level of FirstNet rate package a department should choose, and why?
How do you ensure that the coverage will be sufficient for our department?
Do you recommend specific apps to be used with FirstNet, and provide access to them?
What level of support and training do you provide during equipment installations, and afterwards?
Are there extra costs involved?
Is your support available 24/7?
If we have an equipment failure, do you provide spares – and will you bring to us and get them running 24/7?
Are there any trade-in options for future upgrades?
---
About the author
James Careless writes on law enforcement and technology topics.
Request product info from top Dedicated Public Safety Networks companies
Thank You!