Understanding the tech, availability and implementation of FirstNet
You're in the middle of over a million other people at the Super Bowl and need to make an urgent phone call to your CO. Will you be able to? With FirstNet you can
---
This feature is part of our PoliceOne Digital Edition, a supplement to PoliceOne.com that brings a sharpened focus to some of the most challenging topics facing police chiefs and police officers everywhere. To read all of the articles included in this issue, click here.
By Ron LaPedis
You probably have heard a lot of talk about FirstNet. In a nutshell, one of the findings of the 9/11 Commission was that first responders were crippled by multiple communications problems, and Congress wanted to ensure that would never happen again. To that end, the First Responder Network Authority was created in 2012, and bidding to build the network opened in 2016. In 2017, AT&T won the 25-year contract to build FirstNet.
There are two main entities involved: The First Responder Network Authority, an independent authority within the U.S. Department of Commerce, which drives the requirements, and AT&T, which is responsible for building out and managing the network.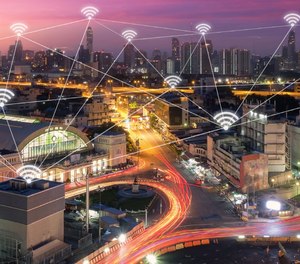 Devices, towers and backbone
There are two types of users on FirstNet – public safety, or Primary users, and Extended Primary users, such as hospitals and utilities. Both types of users first need a device that has been tested and approved for connection to the FirstNet network, or simply FirstNet.
More than 90 push-to-talk, mobile phone and mobile hotspot devices have been tested and approved to operate on the FirstNet core, giving public safety access to the critical capabilities it enables. Of these, nearly 50 are FirstNet Ready™, which means they also support access to the FirstNet-specific Band 14. For a list of FirstNet devices, visit https://www.firstnet.com.
A device with a FirstNet SIM will connect to an AT&T tower, repeater, COLT (Cell on Light Truck) or COW (Cell on Wings) via its internal radio on any available AT&T cellular band.
If the device is "FirstNet Ready" and the tower supports it, the radio communication will be on Band 14, which sits at a frequency of 758-798 MHz. This spectrum previously was used for analog television, but now is being repurposed for public safety because it provides excellent propagation characteristics, such as being able to penetrate buildings and walls easily. It also covers relatively large geographic areas without deterioration of the signal, unlike most other cellular bands. The iPhone XS is FirstNet Ready and supports Band 14.
As of May 2019, AT&T had deployed Band 14 in over 600 markets and expanded the FirstNet coverage area by more than 50,000 square miles. The added LTE coverage is a result of ongoing network-build initiatives to expand and enhance connectivity for FirstNet users in both urban and rural areas. As deployment of the FirstNet Band 14 continues, coverage and capacity across the country will continue to increase.
From the tower, the device's traffic will be routed to the closest point where it can transition to the FirstNet core, a fully redundant, physically separate and secure network core created solely for first responders. And if you're on FirstNet, your device gets priority for voice, text and data, thus letting first responders break through a jammed cell phone network.
While other cellular providers are offering special plans for first responders, including unlimited plans with prioritization they say is without throttling, they cannot give you all of the FirstNet benefits, including access to Band 14.
How other providers recognize and treat outside traffic coming into their network and to their subscribers' devices is up to them. This means that reaching first responders not on FirstNet may be problematic in a major disaster, although FirstNet is designed so all traffic to a FirstNet device is prioritized regardless of where it comes from – even outside of the FirstNet network.
Will my signal get better? Will my data be faster?
If you live in an area with saturated bandwidth, prioritization may give you higher data speeds and fewer dropped calls. This is a discussion your agency needs to have with its local FirstNet representatives. Additional tower equipment or repeaters may be called for.
In a disaster situation, FirstNet First Priority™ guarantees:
Quality of Service (QoS): Establishes minimum/maximum service quality parameters;
Priority: Gives users preferred access to network resources;
Preemption: Terminates or relocates lower priority users to provide primary users with access.
If towers are out or additional bandwidth is required, FirstNet has 75 dedicated deployable network assets and access to more than 300 AT&T deployable network assets. These can be Cells on Light Trucks or Cells on Wheels. And FirstNet recently added three Flying Cells on Wings (COWs) to the FirstNet deployable program.
Additionally, local public service agencies can assign levels of priority to their users, perhaps giving incident commanders higher priority. They can also monitor FirstNet in real time, including site locations and service level conditions.
Sign me up
Assuming you are sold on FirstNet, how do you sign up? You can purchase FirstNet service one of two ways:
A qualified first responder organization can establish a FirstNet contract. The agency can port phone numbers to FirstNet and put those SIMs into compatible devices. If an agency allows for subscriber-owned phones or self-paid plans, then the organization can set up a subscriber-paid foundation account and subscriber-paid administrator. The administrator can use the FirstNet portal to identify and verify the individual first responders who are eligible for FirstNet. The administrator is responsible for auditing the eligibility at least once a year. The verified first responders will receive an email invitation to sign up online or receive an authorization code that can be presented in an AT&T store.
If your organization does not have an established FirstNet contract, you can visit FirstNet.com/signup to complete an online application and eligibility verification process before you make your purchase. You can also visit your local AT&T store with your organization I.D. You'll complete an online application process, make your purchase, and then have 30 days after activation to successfully complete the online eligibility verification process. 
Signing up for FirstNet is only the first step. Until you put your FirstNet SIM into your device and restart it, you will stay on the AT&T commercial core. A move to the physically separate and truly dedicated FirstNet core requires a SIM card switch.
In my case, I took the letter with the authorization code and my badge into a local AT&T store and had my number ported to FirstNet in around 30 minutes.
---
About the author 
Ron LaPedis has been a business continuity and security professional for over 25 years and frequently writes and speaks on business continuity, cybersecurity, physical security and public safety topics.
Request product info from top Dedicated Public Safety Networks companies
Thank You!