Cell phone holsters for law enforcement
The Sticky Holsters Burrito can be easily adapted for outer vest carry
---
I've probably had more than a dozen cell phones over the years. I keep them for two or three years, then trade up to the newer (or newest) version. I've probably had three dozen cell phone holders during that time.

Most break from wear, get caught on the seat belt buckle of my car or the clip cracks and falls apart; and I've never been able to find one that suits my needs.
Either they're too flimsy, look like they're made for a construction worker, or require a security code and key to get the phone out.
Someone Has Been Listening
While I've never voiced my frustration on this issue to anyone other than my beautiful wife, apparently some active duty cops have. One set of ears that have picked up on that frustration belongs to veteran firearms trainer, Mike Christoff, owner of Sticky Holsters  and the operator/chief instructor for Mobile Tactics Training out of Naples (Florida).

As some of you may know, Mike and his staff at Sticky Holsters are the developers of the revolutionary line of IWB holsters, BUG pads and Ankle rigs for street cops. Well, his latest product is a line of cell phone holsters/wallets made from the same proprietary material as his other Sticky Holster rigs.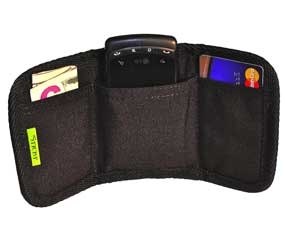 My wife, a non-cop Adult Ed teacher and CCW holder, bought me a Sticky Holsters Burrito cell phone holster as a birthday present along with a couple boxes of 9mm and 40 S&W rounds.

I bought her a new BMW 528i, but we'll leave that for another time.
I've been using the Sticky Holsters Burrito for a couple of months now and I love it. The holster/wallet combo gets its name from the unique way Chipotles, Moe's Southwestern Grill, or many of the other Mexican restaurants pack their soft tortilla shells with plenty of ingredients and then fold them into thirds.

But the thing I really love about Sticky Holsters Burrito rig is the neat way you can carry a lot more than just your cell phone and still have your device accessible when you need it. I carry my Sticky Burrito cell phone holster on the front of my right hip just in front of my off-duty gun and there's plenty of room for not only my BlackBerry, but a few business cards, my credit card, my driver's license, my CCW permit, and a couple of bucks, too.
There's even a tiny removable carabineer "D-ring" for keys and a slot for a ball point pen.

Tact Unit or SWAT cops will love this new holster because the Sticky Holsters Burrito can be easily adapted for outer vest carry. It can also be attached to your squad's seat belt, or around your neck via an included lanyard, for hands-free operation should that be needed.
The unique rigid A-frame design is perfect as a desk stand for speaker use. Grab-n-Go types will love the Sticky Holster Burrito because you never have to worry if you've got everything you need should you have to bail out of the squad room in a hurry.
Phone? It's in there.
Cash? It's in there.
Credit card? It's in there.
Business cards? They're in there.
Keys? They're there, too.
Sticky Holsters Burrito cell phone holsters are sharp looking and custom made for specific size cell phones. As I stated earlier, I carry a BlackBerry, so my P1 Sticky Burrito is sized for that phone.
Those who use smart phones with screens larger than 4.3" or folks with flip-open or press-to-talk models might need a P2, or better yet, shoot Mike an email regarding what size Sticky Burrito you might need.
Don't try carrying your cell phone in a Sticky Burrito that is not specifically made for your phone as it may come loose or be difficult to extract. 
As usual, all Mike's products proudly carry the "Made in the USA" seal. The Sticky Burrito comes with a full 1-year replacement warranty on both materials and workmanship.
His customary 15 percent discount for all current or former LE, Military, or First Responders has been a staple of Sticky Holsters, Inc. for years and is applicable on the Sticky Holsters Burrito, too.
Email Mike at Mike@stickyholsters.com for the discount code.
Check all the whole Sticky Holsters product line including their original IWB Sticky Holster, their Ankle Biter Rig, BUG pad, single or dual magazine or accessory pouches, and their new smaller Sticky Taco cell phone holster at www.StickyHolsters.com.

Request product info from top Police Storage companies
Thank You!