Do you take the same care with your firearms when you're off duty?
Consider the dangers you may be overlooking when you take your duty weapons home and take steps to reduce your risk
---
By Laura Neitzel, Police1 BrandFocus Staff
As a police officer, you understand the importance of securing your firearms in your patrol vehicle to prevent them from being stolen and falling into the wrong hands.
But what happens when you go off duty?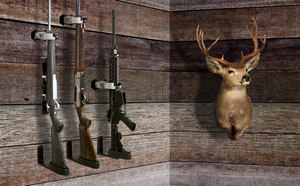 Many officers start and end their shifts from home, and that means either securing duty weapons in the patrol vehicle or taking them inside. Either scenario poses a risk.
Gun thefts from vehicle break-ins are on the rise, and law enforcement vehicles are not immune. A police car with body armor, weapons and ammunition parked in a personal driveway can be an irresistible target for a daring thief, as one unlucky officer in Mississippi recently learned.
But bringing weapons inside the house presents its own set of dangers.
Prevent firearm accidents
In May 2022, a research letter published in The New England Journal of Medicine revealed an eye-opening statistic: In 2020, firearm-related injuries became the leading cause of death among children and adolescents. The rate of firearm-related deaths of all types jumped to almost 30% between 2019 and 2020, more than twice as high as the relative increase in the general population.
Are you doing enough to keep your weapons out of the hands of a curious child or a struggling teenager? Nearly half of all teen suicides involved a firearm, and youth firearm suicide has reached its highest rate in more than 20 years.
"A responsible gun owner, whether they're a law enforcement professional or a homeowner who owns guns, can do something to help solve this bigger problem," said Mike Waryas, president of Tufloc, a manufacturer of gun safety solutions. "And that is to keep your guns locked up at home. It seems like common sense, but gun tragedies keep happening."
One of the most effective approaches to preventing these tragedies is by storing firearms securely when not in use.
Keep your firearms safe, secure and accessible
Whether on duty or at home, law enforcement officers must balance the need to have their firearms safely secured but instantly accessible in a dire situation. The good news is that you can keep your family out of harm's way with safe, secure gun storage.
Tufloc, which has been manufacturing locks, lockers, drawers and gun racks for buildings and vehicles, has a range of gun storage options that make firearms secure and accessible whether in the patrol vehicle or the home.
The X-Lock Gun Lock is designed to meet the needs of law enforcement for a secure yet easy-to-release lock for long guns in the patrol vehicle. Made to accommodate virtually any make and model of gun, the self-adjusting design means the locking arms automatically adjust to provide a secure, custom fit when the gun is pressed into place.
When the firearm is needed, the lock can be released with a key or with a delay timer and switch.
Add security at home
Like on patrol, if you need access to a firearm at home, you may need it quickly. But you also need your firearm to be stored securely and accessible by only those with the training, respect and confidence to use it wisely.
The good news: the X-Lock is now available for residential use. This allows gun owners to keep their rifles and shotguns visible and accessible, but securely locked away from children and other unauthorized users. The residential X-Lock can be accessed with a key, or the Tufloc fingerprint reader can be added, allowing it to be instantly opened with a four-digit code, an RFID card or a fingerprint.
"What's nice about this is I don't have to struggle with a combination safe. I don't have to try to find a key," said Waryas. "I just use my fingerprint, a four-digit code or an RFID card. The gun is visible, but it's safe, and it allows me quick, easy access if I need it for home protection."
The rack accommodates rifles and shotguns with scopes and other accessories. It can be mounted to drywall, concrete, wood or brick walls so you can choose to keep your firearms hidden in a closet or display them securely but with immediate access.
For secure handgun storage at home, Tufloc also makes residential gun lockboxes and lockers in a range of sizes and designs.
As a law enforcement professional, protecting people is what you do for a living, and your firearm is an essential tool. But don't overlook the threat your firearms can pose at home to those you love most.
Visit Tufloc for more information.
Read Next: Your duty car is your castle: How to make it yours

Request information from Tufloc
Thank You!