PRESS RELEASE
Datum launches Generation II (G2) military-grade weapon rack
---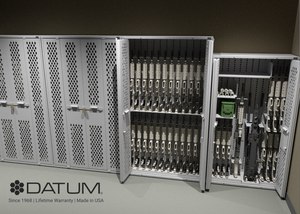 YORK, Pa. — Datum Storage Solutions launched the Generation II (G2) military-grade weapon rack to their extensive line of weapon storage products designed for Law Enforcement, Government, and Military armories. A reconstruction of the popular legacy weapon racks released in 2014, the G2 maintains the same high-quality, heavy-gauge steel construction Datum is known for and offers additional strength and flexibility unmatched in the industry. The racks are designed to store weapons, gear, and other tactical equipment safely and securely. 
The G2 is constructed of 16 gauge fully welded steel and features a newly designed back panel with a shelf weight capacity of 300 lbs. The panel runs the weapon rack's full length to support a wide range of durable 14 gauge steel components. 
In addition to the rack's strength, the new G2 is designed to provide maximum flexibility for weapon inventory. A newly designed modular base easily accommodates rifles and crew-served weapons and provides additional stability. Other new features include a sling retention component to prevent snags during weapon retrieval and bi-fold doors that do not recess into the cabinet to increase the weapon rack's storage capacity. A hinged-door option is also available. 
"When Datum designed the G2, flexibility and durability were important factors taken into account," said Gary Myrick, Military and Law Enforcement Sales Manager at Datum.  "A lot went into designing components that would properly seat a variety of weapons, and the new barrel saddle has a sling retention design to keep things neat and to prevent the slings from snagging the weapon next to it. These careful designs make weapon retrieval easier and safer and help prevent damage to the weapon or weapon attachments."
The G2 weapon rack is manufactured in the USA and backed by Datum's exclusive Lifetime Product Warranty. Standard G2 weapon racks are 36" or 42" wide and are manufactured at various heights to accommodate any space. Racks can also be bolted to wall studs, side to side, or stacked, and are compatible with Datum's Mobile Trak systems. 
About Datum Storage Solutions
Owned and operated by the Potter family since 1968, Datum Storage Solution's team of in-house engineers, designers, and skilled craftsmen have manufactured storage solutions for over 40,000 companies around the world. Datum's diverse lines of products are made in York, Pennsylvania with high-quality, environmentally friendly materials and processes.  Every product is backed by Datum's exclusive Lifetime Warranty — the best in the industry. For more information, please visit bydatum.com.

Request more info from Datum Storage Solutions
Thank You!