PRESS RELEASE
Gemstar Protective Hard Cases expands Stronghold line with 19 new sizes
---
Stronghold premium hard cases by Gemstar are now available in 134 standard dimensions
Cannon Falls, Minn. – Gemstar Protective Hard Cases, a division of Gemstar Manufacturing, announces the expansion of the Stronghold® hard case line with 19 new sizes. The addition of these new hard cases increases the number of Gemstar's premier line of hard cases to 134 standard dimensions. These new dimensions come on top of the 91 new standard dimensions introduced by Gemstar in its Stronghold line in 2022.
Gemstar Stronghold hard cases are relied upon by military, aerospace, aviation, medical device, industrial, and commercial customers for their quality, precision, and ability to be customized to meet a specific need. Manufactured with Gemstar's exclusive robotic rotational molded process, Stronghold double-walled hard cases are airtight, watertight, and built to last years of use.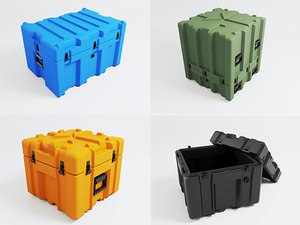 Stronghold cases boast GSR™ high-performance resin, patented latches, rubberized spring-loaded handles, recessed hardware, and interlocking stackability. This military-grade hardcase is designed and tested to meet or exceed MIL-STD 810F and military Long Life Reusable Case (LLRC) standards. Most importantly, they can be customized internally to protect sensitive assets properly. Stronghold cases are available in over 145 sizes, including non-published sizes.
"We added these new dimensions to our Stronghold line based on our long history with military, aeronautics, and medical device customers that need premium hardcases to transport sensitive equipment," said Kevin Paulson, Director of Product for Gemstar Manufacturing. "Having these dimensions ready to go allows us to increase our speed in meeting the needs of our customers."
Gemstar designs, creates, and tests highly technical solutions to meet any industrial or commercial application. Gemstar is proud to be the first manufacturer in the United States to offer robotic rotational molding. Gemstar's proprietary Robomold® manufacturing technology provides precision plastic solutions with fully automated capabilities. Robomold technology provides product consistency and repeatability, material control, and superior quality. This technology allows Gemstar to produce cutting-edge plastic solutions, such as multi-layer products not previously available in conventional rotational molding.
To learn more about Gemstar Manufacturing, visit https://www.gemstarmfg.com/.
About Gemstar
Gemstar Manufacturing is an engineering-based solutions provider with 60 years
of manufacturing experience and knowledge. The company is a family-owned business supported internally by long-term employees. The firm's history is rooted in custom manufacturing and the dedication to a customer-centric organization. Gemstar's mission is "To test the limits of plastic manufacturing and exceed the expectations of customers."