PRESS RELEASE
Aramsco Introduces BIO MED WASH - Sterile First-Aid Wash for Law Enforcement
---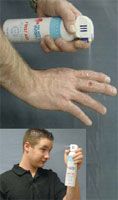 Armasco introduces BIO MED WASH: A new indispensable wound management benefit for first-aid or emergency room.
Why first-aid experts prefer BIO MED WASH:
All-natural, safe, sterile, convenient, non-allergenic, salinefree, propellant-free, and additive-free.
Benefits wound management, wherever standard first-aid calls for washing the affected area in tap water or saline solution.
Excellent for cleansing cuts, abrasions and minor burns, softening and removing particulate matter and crusted exudate, and moisturizing traumatized skin.
Helps cleanse, soothe and dilute harmful liquid chemicals, such as pepper spray or tear gas, that have come in contact with skin or eyes.
Moisturizes dehydrated skin and eyes.
Contains pH balanced, hypotonic Bio-Logic Aqua tissue-culture grade of water, proven ideal for skin and eye application.
May be applied as often as desired. Gentle enough for children.
Free from additives, chemicals, preservatives, propellants and buffers.
Compatible with all other first-aid products.
Five-year shelf-life.
Trigger Actuator-Bag-In-Can Technology
The specially designed BIO MED WASH trigger actuator emits the Bio-Logic Aqua water as a fine mist, making it unnecessary to touch either the water or the affected site. This helps assure sterility even under unsanitary conditions. Cutting-edge "bagin- can" technology avoids the use of chemical propellants while helping insulate the water against extremes of heat and cold.
Bio-logic Aqua Technologies
Bio-Logic Aqua Technologies Biomedical Research is the world's acknowledged leader in water and hydrotherapy research and water for pharmaceutical application. All company products contain Bio-Logic Aqua® tissue-culture grade of water. Due to a rare combination of purity, a slightly acidic pH (6.4), and mild mineral nutrient content, Bio-Logic Aqua is quickly and beneficially absorbed by damaged tissue.
BIO MED WASH is perfect for Police and corrections officers and is available for $10.00/each. For more information, please visit www.aramsco.com or call 800-767-6933.