PRESS RELEASE
Aramsco Introduces Flexible Canteens
---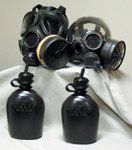 Flexible 1-Quart Canteen Body
Canteen body made of same specification material used for the body of the standard issue 2-quart canteen
Standard Specification Cap
Cap is the standard issue specification M1 cap used on standard issue 1-quart and 2-quart canteens
Collapsible for Easy Storage
Empty canteens can be compressed to greatly reduce the space they take up in a pack.
Greater Water Flow with Gas Mask
Tests have shown that flexible canteens greatly improve the ability to drink when wearing the gas mask. A little hand pressure on the flexible bottle nearly doubles the flow of water compared to standard issue rigid canteens.
Reduces Noise
Eliminate the sloshing noise by slightly compressing a partially full canteen to reduce air space in the canteen
Reduces the Possibility of Injury
Even when full the flexible canteen can deform under load offering an added measure of protection as compared to falling on rigid canteens
Item 52714 Black Canteen - $25.00
For more information, visit www.aramsco.com.