Spotlight: Ray Allen Manufacturing, the world leader in professional K-9 equipment
---
Company name: Ray Allen Manufacturing 
Headquarters: Colorado Springs, Colorado  
Signature Product: Ray Allen Manufacturing 
Website: Ray Allen Manufacturing 
1. Where did your company name originate from?
Ray Allen and his wife Frankie started the company in 1948.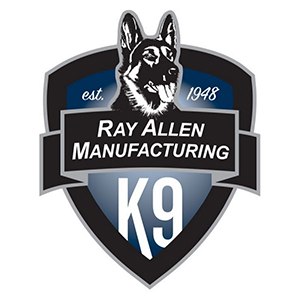 2. What was the inspiration behind starting your company?
Ray was a cowboy in Colorado and enjoyed working with leather. He and Frankie had livestock and dogs and started a saddle company in Colorado Springs. Camp Carson was also located in Colorado Springs and they soon formed a relationship, with Ray making leather products for the mule brigade. Ray Allen's love for animals led to a quick expansion into K9 equipment for the program that moved to Camp Carson, starting with a leash and collar we still sell today.
3. What is your signature product and how does it work?
Professional dog handler needs are very specific and can vary widely from handler to handler.  Because of this we aren't really known for one single product. Instead, we are known for a complete line of high-quality equipment including bite suites, harnesses, leashes, collars, scent kits, and reward toys; even K9's need rewarding.  All of our equipment is designed to protect trainers and maximize the potential and value of the working dog.
4. Why do you believe your products are essential to the law enforcement community?
K9s have become an essential component to the law enforcement community being used for suspect apprehension, drug detection, bomb detection, and the list goes on.  If K9's were not vital to police work, the idea would have been abandoned years ago.  For these dogs to perform their duties and keep our communities safe, it is essential they have equipment that will not fail under any condition and can be trusted just as the handler trusts and depends on his partner.  That's what we're all about having been focused on K9 gear for 7 decades and its our greatest source of pride.
5. What has been the biggest challenge your company has faced?
Over 71 years, there haven't been many challenges we haven't faced. Currently, we are battling inferior and low-quality gear being copied and produced overseas and sold via mass retail.  These products may look like the real deal, but the materials are subpar and the craftmanship is nowhere near where it needs to be.  The price might be attractive, but the results of using this equipment while on duty or even in a recreational setting could have unfortunate consequences.  You can imagine being on the forefront of new gear development, the number of inferior products we see making their way into the K9 market. Trying to make these facts known is a big challenge for us currently.  Leading the way in new product development, design, and quality is how face those challenges.
6. What makes your company unique?
Our history. We spend a lot of time on innovation, and almost every K9 product in the market was inspired by either Ray Allen himself or one of our employees over the years.  We understand the unique needs of a handler and his K9 partner and as such there are very few products which we have not brought to life.
7. What do your customers like best about you and your products?
Customers know they are getting products of high-quality and innovative design, and we are truly a one-stop-shop for professional equipment for your K9.
8. What is the most rewarding part of serving the first responder community?
We are honored to have the opportunity to make gear for men and women who put their lives on the line every day to keep us safe.  There is nothing more rewarding than that!
9. Is there any fun fact or trivia that you'd like to share with our users about you or your company?
Our company was started by a real-life cowboy who was an expert in leather work, we have now been serving you for 72 years.  If you have gotten a leash in the last 30 years from us, it was probably made by 1 guy.  We are proud to have more than 120 years of combined experience in manufacturing K9 gear!
10. What's next for your company? Any upcoming new projects or initiatives?
We are continuously innovating and coming out with new products and 2020 will be no different. We recently developed a patented harness system that allows a single harness to be easily configured for different uses. This Interchangeable Harness System (I.H.S) has two parts - the frame and the body cape. The harness frame can be used alone as a fully functional harness or with the body cape. This system allows you to interchange the harness frame with different types of body capes serving the functions of patrol work, ballistics, tracking, weather, etc.  
We are also launching a new website in Summer 2020 to offer a much improved experience when ordering online.