Why 'by LEOs for LEOs' matters
Founded by law enforcement officers, Militaur offers products designed to directly address problems cops face every day
---
Sponsored by Militaur
By Dustin Dodd for Police1 BrandFocus
There is an old saying that rings truer today than ever before: "It takes one to know one."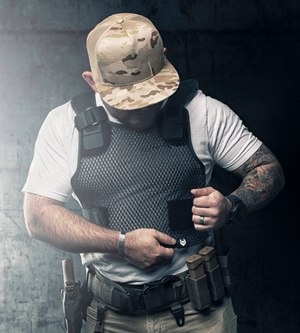 Every line of products that supports a particular profession can appeal, and will often charge more, to specialized or unique markets. Upgrades and add-on features drive up the price while often failing to make a real, practical impact. The "tactical industry" is no different. 
The line of products to support law enforcement is vast. It is ripe with a wide variety of gadgets and doodads to make us more effective, even safer, in our mission to serve and protect the public. Like any other line of work, some products are well thought out, practical, cost-effective and very useful. Others, well, not so much. We all know that by painting something "tactical black" the price of a piece of the gear can increase an easy 15 to 20%.
Militaur is looking to break that mold like a bull in a china shop – and they were kind enough to send me a care package to prove it.
Founded by law enforcement officers who have served in the blood and the mud, Militaur has launched several pieces of equipment that are designed to directly address issues that their folks encountered during their frontline service. Having been there and done that, their products seek to solve or mitigate the same issues we face on the street every day – without breaking the bank.
VENTILATION VEST STOPS THE STINK
For example, just open your locker and take a deep whiff of your body armor carrier. Yeah, I don't need to either. Militaur created an adjustable ventilation vest to address that putrid problem.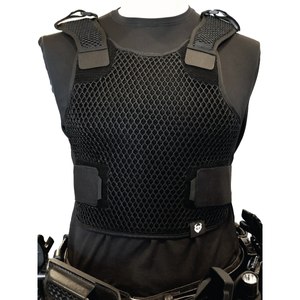 The Militaur ventilation vest is made of a lightweight mesh designed to be worn between your armor and your undershirt or uniform. Woven in a honeycomb configuration, the vest allows air to circulate freely, which keeps you cooler and drier during the summer while also keeping you warmer in the winter. Made of durable material, the vest will hold up in any environment.
When I got my hands on one, I tested it in the toughest environment I could find. No building. No roof. No AC. No car. I strapped it on the back of a motor officer who rode under direct sunlight for two days.
He reports that air circulated through the mesh and up the vest as designed. Worn between a uniform shirt and a load-bearing vest, the Militaur ventilation vest also provided the unforeseen benefit of keeping the body armor snug to the torso. Sized to fit just became more legit.
DOOR STOPS MIND THE EXITS FOR YOU
Militaur's ingenuity didn't stop there. Their care package included their door stop, which is small, compact and perfect for tactical situations. Made of tough material, the design easily fits into a load-bearing vest.
This door stop is fast to apply to the edge, hinge or top of a door and easy to remove with a quick pull of the paracord strap, even under stress when your fine motor skills drop. Strong and reliable, the Militaur door stop will keep the self-locking doors of government buildings, hospitals, high-security structures and more – even elevators – open to your team so you don't get cut off while securing an unknown location.

MAGNET CATCH KEEPS TOOLS CLOSE AT HAND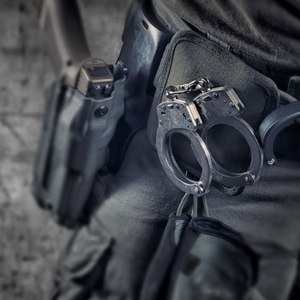 Militaur's new magnet catch is an excellent tool to give you the third hand you've always needed. The magnet is powerful. Compatible with your MOLLE gear, it worked great to sling tools to my vest with ease, freeing up my hands to go hands-on. 
The magnet catch would be an awesome addition to any EOD unit as well. Quickly attached to the chest of a bomb suit to hold tools like wire strippers, crimpers or pliers, the extra hand will give any bomb tech the ability to know where a tool is by feel – a critical advantage to anyone down range in a suit that limits your ability to turn your head or see what's around you.
Remember that it is a high-powered magnet, so make sure to read all warning labels and cautions.
MOLLE AND MORE 
Militaur's product line is robust, and they didn't hold anything back. They threw in samples of their MOLLE loop sticks, which slide under your existing MOLLE system to allow the user to customize patch panels as desired. They come in black or OD green in packs of five single sticks and five double sticks to maximize options for the wearer.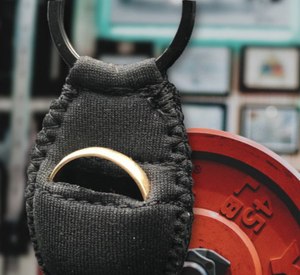 The design of the loop sticks allows for a quick attachment of gear using the existing MOLLE in the location the sticks occupy if the need arises, providing customization without loss of valuable real estate on your vest.
Militaur's care package even contained their new keychain, which has a compartment on the back panel large enough to accommodate a wedding band. This is an affordable and convenient way to secure your ring while working out at the gym so you don't ding the bling.
The folks at Militaur have produced some practical products at a positive price point that address the way tactical business is done. Modern policing requires modern solutions, and Militaur's product line, designed by cops to solve problems from the tactical environment to the day-to-day activities of working a beat, could do just that.
Visit Militaur for more information.
Read Next: Review: Militaur's cooling vest reduces sweat, cuts odor
About the author
Dustin Dodd is an active-duty detective supervisor for a municipal police department in the California Bay Area. He was sworn in 2001 and his assignments have included: K9 handler, Explosive Ordnance Disposal, SWAT Explosive Breacher, drivers training instructor, traffic accident reconstruction, computer and cellular phone forensic examiner.

Request information from MILITAUR
Thank You!