5.11 Tactical and ChromaFlex: A high-tech alternative to metal and embroidered badges
More than merely a clever way to sell a lot of 5.11 uniform shirts, the new ChromaFlex badges from 5.11 Tactical solve some of the problems associated with traditional metal and embroidered badges
---
What would it take to for you to give up your badge? I don't mean stop being a cop. I mean, stop wearing a traditional, metal badge. It would take something pretty extraordinary, right?
Well, the folks from 5.11 Tactical want you to consider that proposal. 
During my visit with 5.11 Tactical at SHOT Show 2014 in Las Vegas, I was told that there would "soon be something really interesting and innovative" coming down the pike. It was all very hush-hush, but there was enough excitement in their voices to pique my interest, and today, the company revealed its new line of high-tech ChromaFlex alternatives to traditional metal and embroidered badges.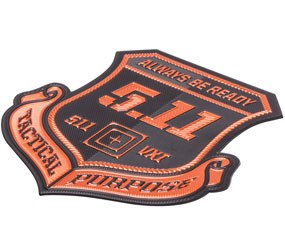 From Gridiron to Patrol
"If you watched the Super Bowl this year, you saw all the players had that the Super Bowl logo on the upper left front shoulder of their jerseys," explained David Hein, Director of Strategic Business for 5.11 Tactical. "That's FiberLok technology. It's a three-dimensional textile embellishment — a liquid-metallized process which makes the ChromaFlex badge look like an authentic metal badge."
The new ChromaFlex badges from 5.11 — created through a patented heat-fusing process that combines polyurethane films, metallized aluminum plastics, and heat-seal adhesives—are at-home and dry-clean washable. 
The badges are permanently affixed to the fabric — from uniform shirts to jackets to go-bags — in a way that, according to Hein, will actually outlast the garment / accessory to which it's been affixed. Each uniform shirt, in essence, becomes a badge in and of itself.
Is this a clever way to sell a whole bunch of 5.11 uniform shirts? Sure it is. But it's also a clever way to solve some of the problems associated with traditional metal and embroidered badges.
Hein said that these badges are not meant to entirely replace the traditional metal badge, but provide an alternative when it makes sense. 
"That badge means something to that officer — they've arrived at that point in their career to support them getting that badge," Hein said. "We don't want to take away from that but we do want to provide a solution that can potentially decrease cost and provide added security." 
Hein pointed out that, for example, in a jail and/or corrections environment, badges can become weapons, so typically a uniform shirt there will have an embroidered badge. 
Hein explained, "You can have the look of the metal badge, but stay safe in an environment where a metal badge may be removed and used as a weapon" such as jail or corrections detail. 
Another instance that makes a lot of sense is when you've frequently got to don and doff an outer jacket — oftentimes you can get your metal badge hung up on that outer garment, creating the potential for it to be damaged or even pulled off your uniform entirely. 
Hein pointed out that in addition to being more visually appealing and providing added security — because of the process by which these badges are made, it's all but impossible to create unauthorized imitations — the ChromaFlex badges are also more comfortable to wear. 
"These badges weigh next to nothing — I'd say most of them weigh less than an ounce — and they don't affect the breathability of the garment," Hein said. The badges are also more flexible than an embroidered solution, which can be stiff due to the stitch count.  
Furthermore, with an embroidered badge, you almost have to wear a T-shirt under your uniform shirt, since that embroidery will chafe your skin. That's not a big deal in cold weather, but when it gets warm outside, ditching that one under-layer can be more comfortable. 
Options from the State Seal to an RFID Chip
There are seven blank templates from which agencies can choose to begin their badge design, and for large agencies — where any additional cost is defrayed because of the sheer volume of badges they need to produce — 5.11 offers the option for a custom setup.
"We want to focus that customized solution on agencies that have the ability to order greater quantities of the badge on their uniforms because with economies of scale, the more you order the lower the cost," Hein explained. 
All of the design templates include the option for a state seal insert and customized laser-etched text in one of several colors. 
Another interesting option is the potential inclusion of an RFID chip in the ChromaFlex badge. That chip will be registered as being associated with that individual officer, further enhancing security. 
"In one of the departments that we're working with, they want to be able to identify that the badge being worn is appropriate and correct for the officer who's wearing it. They're actually tying that RFID chip to a picture of the officer so they can verify that person is who is supposed to have that badge," Hein said.
Naturally, if you're walking around with an RFID chip on your person, there are some potential "big brother" issues, but Hein was quick to point out that just as you have to weigh the pros and cons of many emerging technologies — he specifically cited officer-worn video cameras, for example — and make a decision as to what's best for you and your department.