5.11's 84 ALS backpack: A tactical EMS tackle box
The 84 ALS can handle a significant amount of gear comfortably, and helps you find what you're looking for, fast
---
As a former EMT, I worked on an ambulance service and had many experiences where I wished I had better gear. So often we would respond to calls where great flights of stairs needed to be surmounted, or we would have to climb down ravines to treat victims still trapped in crashed vehicles. These trips were too often hazardous to the responding medics as we were encumbered by backboards, airway kits, oxygen bottles, AEDs, and trauma bags.
Fortunately, these days companies purpose-build items specifically to suit the needs of their customers. 5.11 Tactical has a sound history of responding to customer need through feedback-directed design.  The 5.11 Tactical 84 ALS is a product that reflects this excellent practice.
Inside and Out
The general concept of the 84 ALS is based on their popular RUSH Backpack series. The concept of a medical backpack is not new but the 84 ALS goes a step further by offering modular storage for medical gear. Anyone who has arrived on a critical medical scene knows how quickly you access your gear may make the difference in patient outcome. Organization is the key to saving the seconds that, in turn, save lives.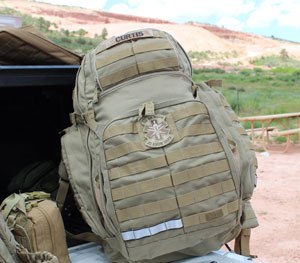 Features of the backpack include an oxygen tank holder and two separate bags: a red intravenous kit and blue airway kit. These smaller organizers open up with a zipper and unfold to reveal all their contents. The airway and IV kit ensure you can see all their contents when they're deployed. I had to resist putting something in every organizational slot of these kits. I initially filled them too full and could not get them back in the 84 ALS.
The interior of the bag has ample storage — 2600 cubic inches in the main compartment, 3640 cubic inches overall. The bag includes "Tank-Trap" oxygen bottle storage, a compressible wrap that holds on to the bottom of the bottle. The trap in turn utilizes hook and loop fastener to stick to the inside of the bag. While this keeps the bottle firmly in place during a ruck, you can quickly pull it out in order to more easily administer oxygen.
The backpack is made with tough, water-resistant 1000 Denier nylon. The 84 ALS is organized with one large, clam-shell style compartment. You open the main flap to reveal three mesh pockets on the underside. These mesh storage areas keep items neatly organized and help you view gear, hastening identification and selection.
The exterior has two large side-pockets, an administrative section on the back of the main opening, and another pocket near the top of the flap.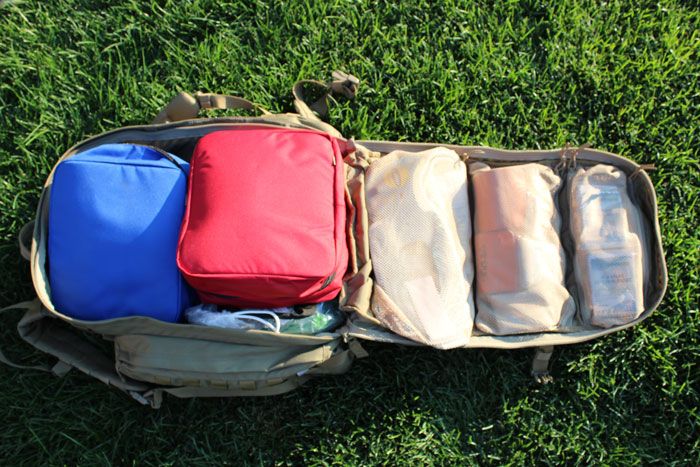 Features of the backpack include an oxygen tank holder and two separate bags: a red intravenous kit and blue airway kit. (Photo courtesy Sean Curtis)
Hook and loop name strips are present on the back of the bag as well as a patch section. A fleece-lined sunglasses pocket protects your valuable eyewear near the strongly stitched grab handle at the top of the bag. A hydration pocket with dual ports is built in and there is a "Shove-it" pocket I've found useful for securing quickly needed items like jackets or helmets that would take up too much room in other storage areas of backpacks. The exterior is also covered in MOLLE/SlickStick web platform that further enables you to customize the bag to your application. The beefy zippers also have nylon pull tabs on them, greatly aiding dexterity when hands get slippery or shaky.
On the Move
One of my favorite features of the 84 ALS is the fit. I have backpacked in Colorado for years and used everything from old ALICE packs to more modern alpine gear. Fit is always crucial. Make no mistake about it; the 84 ALS is a big bag, designed to do a big job. Thankfully, medical supplies aren't terribly heavy in most cases. Fully equipped with gear including an IV kit, airway, and oxygen bottle, the bag I used weighed 33 pounds — which makes adjustability important. The padding on both the waist belt and shoulder straps was right on.
I was able to get the bag up on my hips and secure the waist belt in place without constantly having to readjust the belt as I have on other bags. The shoulder straps served well and the co-located compression straps allowed me to shift the weight of the bag forward or back as the situation dictated. The chest strap was adjustable and included some bungie material for comfort. Padding placed near the shoulder blades and kidneys created an air channel running down the spine, greatly aiding with heat and sweating issues.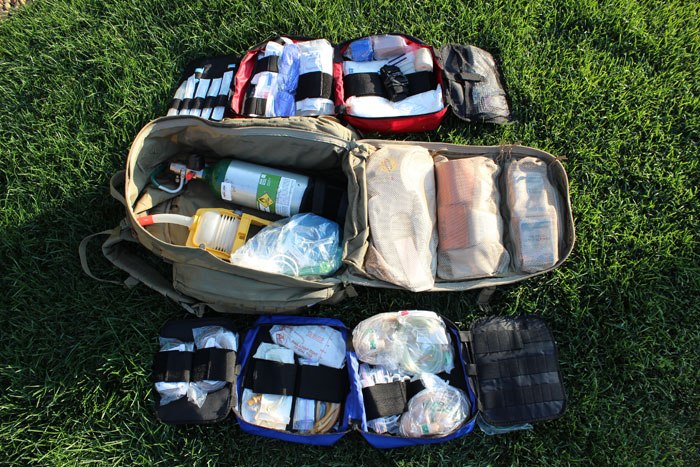 (Photo courtesy Sean Curtis)
To test the bag out, I hiked several miles on local trails and didn't feel overwhelmed, nor did I experience any hot spots or areas that wore on me. The bag rode comfortably and due to the Tank-Trap, predictably. A removable rigid spine piece located near the back helps the bag to hold its shape. I did notice a slight squeak coming from what I assumed was some of the plastic hardware as I strode, but was unable to specifically identify its source.
Conclusion
The 84 ALS at the very least meets, if not exceeds, the quality standard I've come to expect from 5.11 Tactical. I love the ability to have both hands free while I'm hauling medical gear, which allows for safer traversing of obstacles, carrying a rifle, or going hands-on if your situation calls for it.
I'll never forget frantic scenes where I searched for this or that in various pockets of a jump bag only to find it later when things had calmed down. The design of this bag is like a tactical EMS tackle box, allowing all your gear to be visible. It can handle some significant gear comfortably. You can load it to suit your purposes, whether you're a first responder, or a TEMS chasing SWAT. I am happy to announce the 84 ALS married my 5.11 range bag in a private ceremony — they go everywhere together now. The bag is available in Albert Blue or Sandstone (pictured) and retails for $239.99 on 511Tactical.com.

Request product info from top Police Bags and Cases companies
Thank You!