A better way to travel with guns: Gunvault Nanovault
The Nanovault is more secure, more compact and even less expensive than many travel gun cases
---
Since the advent of LEOSA, which permits active duty and qualified retired law enforcement officers to carry firearms concealed throughout the United States, I've been taking my gun with me when I travel. Flying with firearms has never been simple, and I still have to be careful to meet all the TSA and airline requirements before I leave for the airport. That has included several evolutions of gun and ammunition case combinations until I came upon the Gunvault Nanovault Firearm Safe.
Unless you're a Fed or traveling on official business with a letter from your agency stating as much, your hardware has to be checked through as baggage. You can buy a special case for this and check it separately, but, (1.) you'll pay additional fees for checking an extra bag and (2.) most of those cases fairly cry out, "Steal Me." If you're taking a long gun, you don't have much choice in the matter. For sidearms, I prefer to pack a secured gun case inside my regular suitcase.
I've collected several cases made for this purpose, and have never been satisfied with most of them. They can take up a quarter of the total space inside the suitcase. Most are made of plastic that won't stand up to a good pocketknife, and they take two padlocks to secure. The Nanovault is smaller than most of the plastic gun cases, and no one is going to get into it with a pocketknife. At $28.99, it's a bargain.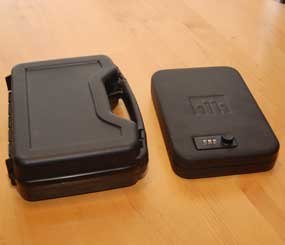 As the name suggests, the Nanovault is designed for secure home or vehicle storage of a firearm. It's a box formed of 21 gauge steel, filled with memory foam, and secured with a 3-digit combination lock or a key, depending on the model (the keyed version is $8 cheaper). There are two pre-drilled holes in the bottom for permanent mounting on a wall or shelf, and a notch in the side to permit a supplied steel cable to exit the box. The cable can be looped around a stationary object for security when you can't use the screw mounts. The combination lock can be set to the code of your choice. It feels solid. Mine weighs about 2.5 lbs. empty.
I secure the Nanovault inside my rolling suitcase by looping the steel cable around the telescoping handle assembly inside the suitcase lid. The handle assembly is plastic, but a thief would have to go to some effort and make some noise in order to separate the Nanovault from the suitcase without the key or combination.
Checked firearms have to be unloaded. The TSA permits ammunition to be checked through, but it can't be stored in a pistol magazine as the primers have to be covered (the top round in the magazine has an exposed primer). I unload the magazine (don't forget the one in the chamber), put it back into the gun, and put the ammo in a Case-Gard ammo wallet. Case-Gard doesn't make an ammo wallet for .40 S&W, but the one for .45 ACP keeps them separate and secure, even if they rattle a bit. The ammo wallet goes inside the Nanovault. If you want to carry more than one magazine, and the ammo that goes with it, a better choice might be one of the ammo boxes from Case-Gard. Ammunition can be in the suitcase separate from the gun, and doesn't have to be in a locked container. Original packaging for most ammunition (if each round is held securely in a tray) will pass TSA requirements, but the Case-Gard boxes are considerably more durable.
My choice of suitcase is also one arrived at after much trial, error, and destroyed suitcases. I estimate I have invested well over $1,500 in luggage that was wrecked by one airline or another. On the recommendation of a friend, I purchased an aluminum "Zeroller" from Zero Halliburton. My friend was given his by his parents before he left on a Peace Corps mission in 1968, and was still using it. The deal was closed when I saw a news photo of a big time crash at an airport. Lying near the wreckage was a Zero Halliburton bag, still intact. I've now had mine for six years and it looks as though it's been through a war, but it's still going strong. The best prices I've found for them are from a camera store called Cambridge World. Their customer service has been excellent.
At the airport, the unloaded gun and ammo wallet are inside the Nanovault, which is inside my unlocked suitcase. I tell the airline agent I want to declare an unloaded firearm. The agent produces a Day-Glo red tag with that wording in big letters, signs and dates it, and gives it to me to sign. I open the suitcase, open the Nanovault, and ask the agent if they want me to show them the gun is unloaded (they usually take my word for it). I put the tag inside the Nanovault, close and lock it, then close and lock the suitcase. I then hang around until I see the TSA agent place the suitcase on the conveyor after it's been run through their x-ray scanner.
This is how it usually works — your mileage may vary. In any event, I think you'll feel more secure with your gun in a Nanovault than inside a plastic box.

Request product info from top Police Bags and Cases companies
Thank You!