How this tactical bag uses NASA tech to kill your gear's stink
Maintain a professional appearance, save time and reduce wear and tear on your gear by eliminating odors with an ozone treatment
---
Sponsored by Odor Crusher
By Police1 BrandFocus Staff
Command presence is a critical component of officer safety in the field. In the academy they teach you to keep your uniform pressed and neat, but they do not often address the risk of bacteria and the odors that come from the rigors of duty.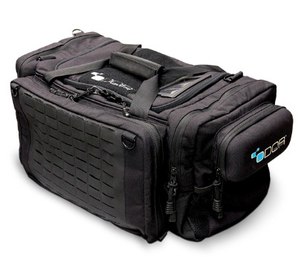 In addition to looking and sounding professional and authoritative, it's important that you stay healthy, and, of course, smell professional as well. Having multiple uniforms and vest carriers helps when rotating laundry, but it does not always contend with circumstances beyond your control – torn, stained or smelly garb, unfit for duty.
Officers are potentially exposed to many vile odors in the course of a shift – vomit (or worse) from intoxicated people in the back seat, smoke from fires, even an occasional skunk encounter. Many of these vile odors are also full of bacteria, which cause many odors. Left untreated, over time these germs can cause a health risk.
Previously, officers on the street were simply out of luck, but not anymore.
Imagine a bag you could drop your less-than-fresh garments into, set a 30-minute timer, and pull them out again – clean, fresh and, even better, bacteria-free – when it's done. Odor Crusher took NASA research and developed it into a portable system to clean your wearables – without liquids, powders or sprays. Each Odor Crusher product uses an ozone generator to clean and sanitize anything you place within it.
How does ozone work?
The basic science is that ozone – O3 – is an oxidizer, which means it causes other substances to lose electrons. Through this process, ozone can rapidly destroy the bacteria and viruses that cause odors in the first place. Once the ozone clears the area, it converts back to regular oxygen gas, or O2.
How does Odor Crusher work?
If you work out before a shift and cannot get your exercise gear into the wash, you can simply place it into an Odor Crusher bag. Drop in your smelly workout clothes and zip up the bag. Activate the timer, set it, and forget it. The ozone saturates your clothing in the bag and wrecks any bacteria caused by sweat, food or other sources.
This process happens without any added chemicals, so it is dry. The ozone generator provides on-demand ozone with an automatic shut-off after each use. Remove the clothing later and it is good to go.
A duty-ready resource
Some of the benefits of this system are specifically designed for officers on the go. Whether you have a problem with boots, a uniform or even a plate carrier, you can find an Odor Crusher solution to help kill odor-causing bacteria and stop bad smells in their tracks.
You don't have to remove laces from boots. You don't even have to pull the plates from your carrier – just drop it in and set the timer. The ozone works the same on all the various materials by surrounding them with O3 to stop the odors at their sources.
Odor Crusher bags are rugged and made to survive the highly demanding environments officers face every day. For instance, the Ozone 2.0 Mission Duty Bag is an ideal patrol bag, with mission-critical features beyond its odor-crushing capabilities. Forged from 1050 Denier nylon oxford, it is both tear- and water-resistant. The exterior features laser-cut MOLLE attachments so you can customize the bag with add-on pouches.
There are plenty of interior pockets for whatever gear you need to stow, and the light grey interior allows for better visibility when you need to find items within. The bag also provides a molded, crush-resistant compartment for eyewear.
The bag itself comes with a two-year warranty, but the ozone generator requires no maintenance and has a 20-year life expectancy, meaning it could last an entire career. The Odor Crusher generator can operate on a standard AC wall socket, or it can be plugged into an adapter and run from a 12-volt DC system in your vehicle.
Save time, preserve your gear
With the Ozone 2.0 Mission Duty Bag, you don't have to worry about odors that might affect your command presence or earn you a trip to the sergeant's office. Odor Crusher can help you maintain a professional appearance, save you time and reduce wear and tear on your gear by allowing you to "wash" your items in ozone to eliminate odor-causing bacteria and other lingering aromas.
No longer do you need to be concerned with the arduous teardown and specialized cleaning of various gear or wait around for the laundry to be done, as a simple 30-minute stint inside the bag will kill bacteria and cure whatever odors your shift or workout has exposed you to.

Request information from Odor Crusher
Thank You!