SHOT Show 2016: 5.11 offers a sneak-peek into new uniforms targeted to special ops units
In addition to all the new products on display in the booth, 5.11 Tactical offered a sneak-peek at the XPRT Uniform, a line of apparel targeted to special operators
---
During SHOT Show 2016, 5.11 Tactical announced some new apparel, footwear, and accessories (as they usually do). Among the designs is a new line of pants based in part on the overwhelming success of the APEX and Stryke TDU pants. The Traverse Pant 2.0 is constructed of a quick-drying, breathable four-way stretch fabric. These pants — featuring 10 pockets, some with zip closure to secure your stuff — would be an excellent choice for off-duty wear.
Another new offering from 5.11 is the Speed 3.0 Boots, an updated design — based on feedback received from the field — which is lighter and features an Agion Antimicrobial lining, an OrthoLite insole, and a one-piece sole. Interestingly, the front of the sole has grooves which help in climbing fences and other obstacles, and grooves at the heel to help with rapid changes of direction.
The company has also released the Havoc 30 backpack, "an urban version" of 5.11's outstanding RUSH bag series. The Havoc 30 is a lightweight and low profile pack featuring a laser-cut MOLLE platform and padded eyewear pocket. These packs are available in black, double tap, sandstone, and storm color options.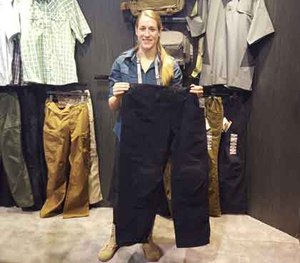 In addition to all the new products on display in the booth, Lyndsey Grove — Marketing Campaign Manager at 5.11 Tactical — also gave me a sneak-peek at a line of uniforms that will not be available until late summer or early fall. Dubbed the XPRT Uniform, this line of apparel is made from no-melt, no-drip fabric which is four-way stretchable.
Of particular interest were several features uniquely tailored to special operators — particularly those who serve overseas, but equally applicable to SWAT officers.
Instead of Velcro closures to the pockets, these uniforms feature quiet magnetic closures. Further, the uniform shirt features neoprene shoulder padding to help relieve some of the strain for operators wearing body armor with rifle plates. The elbow pad pockets are well placed, and the knee pad pockets have four small slits in the side for those who choose pads with top and bottom tightening straps.
There are seven pockets in the uniform shirt and 16 pockets in the pants. Oh, and the pants have a patch of Kevlar woven into the crotch. The folks at 5.11 truly do think of everything! 

Request product info from top Police Bags and Cases companies
Thank You!