PRESS RELEASE
Deliberate Dynamics First to Stock Geissele Keymod MK4 Rail Systems
---
One of my favorite retailers and training outfits, Deliberate Dynamics, has the honor of being the first shop to stock the highly-anticipated Geissele Automatics MK4 Rail System with a full Keymod interface.
This rail is incredibly light, with its skeletonized construction and aluminum barrel nut, and it has just become even better.
I had the first rail off the line, engraved with my name as a thank-you from Mr. Geissele for helping out a little with the design for the rail.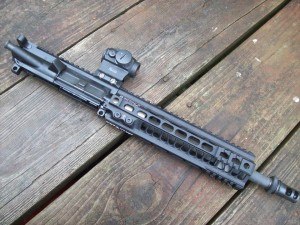 Despite being overall pleased with the construction of the rail, I found the presence of forward rails on a 9.5″ rail to defeat the purpose of having a slick rail to begin with — to make a more comfortable interface for your hands. On the 13″ model, it makes more sense, but thankfully the Keymod version has completely forgone the 3, 6, and 9 o'clock rails altogether.
The only pictures available right now are from the Geissele shop of a prototype that still has the forward rails, but Jim from Deliberate Dynamics assures me they are slick on the sides and bottom, with only a 12 o'clock rail. They will be available in 9″ and 13″ lengths, with both black and DDC (desert dirt color, which is Geissele's version of tan) available in both lengths. They range from $300 to $350, based on color and length.
Hurry and get yourself one!
Pictures are property of Deliberate Dynamics, myself, and Geissele Automatics, respectively.
About Deliberate Dynamics
Deliberate Dynamics, Inc. (DDI) supplies professional gunfighters with the best possible equipment.

We actively work to provide the most detailed product descriptions, pictures, and demonstrational videos to help you make decisions on what will work for you. Our products are constantly being tested and evaluated by SOF operators that are currently working in high threat environments around the world. When we say something works, it works in the field, on the road, and when it is supposed to, not just at the local range with your blue jeans on.