PRESS RELEASE
Deliberate Dynamics GEN2 Plate Carrier
---
The Deliberate Dynamics GEN2 Plate Carrier looks like it could be ideal for armed citizens, like myself, who own armor. Users like me don't always have a need for a lot of load carriage features. However, it can be nice to have the ability to scale up the load carriage potential of the plate carrier if the need arises.

The GEN2 Plate Carrier features a very low-profile design. The form fitting cummerbund is designed to stay clear of your drawstroke from concealment. The shoulder straps pull forward to adjust (a nice touch) and fairly low profile.
There is loop material on the top center and lower front of the plate pocket for attaching pouches, patches, or ID. You can purchase an optional color-matched Blue Force Gear Ten-Speed Triple M4 Pouch with the plate carrier.
The top sides of the front plate pocket feature attachment points for ITW QASM buckles. This allows the user to mount a chest rig should they need to carry additional gear.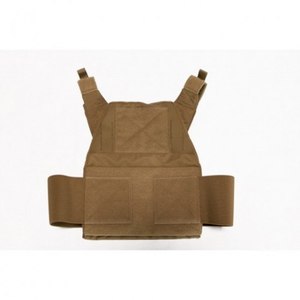 The Deliberate Dynamics GEN2 Plate Carrier is available in Black or Coyote Brown from DeliberateDynamics.com.
About Deliberate Dynamics
Deliberate Dynamics, Inc. (DDI) supplies professional gunfighters with the best possible equipment.

We actively work to provide the most detailed product descriptions, pictures, and demonstrational videos to help you make decisions on what will work for you. Our products are constantly being tested and evaluated by SOF operators that are currently working in high threat environments around the world. When we say something works, it works in the field, on the road, and when it is supposed to, not just at the local range with your blue jeans on.