PRESS RELEASE
Designer Concealed Carry has been featured in the national press several times recently, here is last week's article from Newsweek.
---
Ladies Lock and Load Stylishly in Time for Holiday Season
Kate Woolstenhulme was stumped by a vexing problem after she finally got her concealed-carry permit: Her gun didn't go with her purse.
Woolstenhulme and her husband owned a private jet management company and regularly met with high-profile customers, so she needed a business-friendly handbag for her hidden weapon. Manufacturers of gun-friendly purses, she says dismissively, offer things that are "functional for women" but "not in tune with the fact that women like style."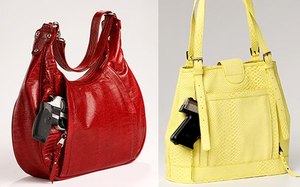 "Showing up with a clunky looking handbag, that was not part of the look," says Woolstenhulme, 63. "If I wanted to give clients the confidence that I could refurbish their private jet, then I needed to project that."
Alas, putting a gun in traditional designer bags wasn't a safe option for Woolstenhulme, either.  
"I was down at Saks Fifth Avenue looking at handbags. I went to the Chanel counter and I had things poking out of the top," she says. "I thought, Well, great. If I can't fit my planner in here, where in the world would I put my gun?
"It didn't matter if [the purses] were $200 or $20,000, they just didn't work."
So she started Designer Concealed Carry in late 2009, and she sold purses for approximately $300 (she says that's the price-point most women will pay for a purse).
They look no different from non-weaponized handbags – from buttery-soft satchels in glacial blue to a canvas-accented messenger bags. But they pack a discreet exterior pocket, in which there's a custom holster made of a Velcro-like fabric, so that the swaddled weapon affixes to the pocket interior rather than shift freely in the purse.
"It snugly holds the gun in position and protects the trigger," she explains.
Woolstenhulme also had an eye on size when designing the gun compartment: Both the zipper entry and holster are "big enough for your hand and your gun to go in and out easily." There are two zippers on the gun compartment, so that both left- and right-handed women can readily access their firearm. In addition, the shoulder straps are adjustable and reinforced, she explains, because guns add extra weight to a purse.
Just in time for the 2013 holiday season, Woolstenhulme is unveiling a new line of gun-friendly purses that sell for approximately $1,500 targeted to "an upper middle-class person who would be able to afford a purse that is unique." (For the 2012 holiday season, she came out with a super-high-end line that included some $4,000 crocodile-skin purses, she says.)
Among her top customers are female judges, lawyers, and law enforcement officers, Woolstenhulme says, and her goal is to get her purses into Saks, Nordstrom and Neiman Marcus, filling a niche left empty by Gucci and Louis Vuitton.
Another Texas-based company, Lucky Swashbuckler (started by a pair of sisters who are also grandmothers) offers vintage-inspired concealed-carry purses, according to the Austin Statesman. Some selections include totes with Dia De Los Muertos pattern fabric, a giant ladybug atop a plaid background, and one featuring a crucifix. (They are handmade with "reclaimed" fabrics, the website says.)
The New York Times reported last year that the gun industry is moving away from the tactical-looking gear favored by cops to more civilian-style clothes, but not all ladies are sold.
Margot Bennett, executive director of Women Against Gun Violence, worries that these marriages of firearms and fashion normalize the use of guns. "We're very concerned with what we call culture creep – the acceptance of guns in our society," she says.
Woolstenhulme, for her part, doesn't think designer gun-friendly purses will become the norm, nor does she particularly want them to be.
"I hope not," she says. "I don't need the competition."