PRESS RELEASE
LAPG Frunk Pack with removable holster
---
A tactical spin on the classic fanny pack
VALENCIA, Calif. — LA Police Gear has every bag you need for any and all occasions. Whether you need a bag for work, range day, or a hike, LAPG has it all. The Frunk Pack is a small bag, but don't be fooled by it's size. It holds all the gear you need and more. A tactical spin on the classic fanny pack, this bag is 6.5" in height, 11.5" inches wide, and 3.5" in diameter and weighs under a pound! The LAPG Frunk Pack includes a removable holster to hold your favorite CCW.
Also included is a hook and loop area on the front with MOLLE loops. You will not only have a spot for every item in your Frunk Pack but you won't lose your items either with all of the storage space! There are several compartments, a zippered one on the front, the main area which is also zippered and has an extra pocket inside,  and a zippered pocket in the back. There are also two pockets which are ideal for holding your ID and cards and a loop inside the main compartment for your keys. The main compartment is large enough to hold your phone, pens, flashlight, small water bottle, and more.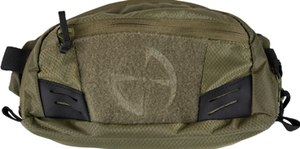 The LAPG Frunk Pack with removable holster comes in five colors: Black, Gray, Midnight, MultiCam Black, and OD Green. It may be worn by attaching it directly to a belt, or may be worn using the waist strap. The waist strap has a buckle on one side, and a hook-buckle on the other so you can adjust the pack as needed. The Frunk Pack is great for use on a long walk, hike, or range day. This small,  yet durable bag will hold everything you need.
About LA Police Gear
LA Police Gear was founded in 2001 by police officers who wanted to establish a reliable source for any and all police gear. LAPG carries everything from EDC, CCW, to survival gear, equipping customers with any item necessary for on or off-duty. LAPG goes above and beyond to provide first responders with the gear they need to keep themselves and their communities safe.

Request more info from LA Police Gear
Thank You!