PRESS RELEASE
Magpul Dynamics Courses at Sniper Country in Utah
---
I first met Caylen Wojcik at the 2013 Sniper Adventure Challenge, where he and his (shooting, not domestic) partner Jon Canipe displayed shooting skills far in excess of the entire field of competitors. For example, of the 26 teams in the competition, only 7 scored a rifle hit on the first shooting stage. Two teams had one hit, four teams (including Paul and I) had two hits, and one team (Ares Armor, I believe) had four hits. Caylen scored seven hits out of ten possible.
So he can definitely shoot, but it's not surprising that he also has a solid background. He was a Scout Sniper in the Marine Corps, having taken part in Phantom Fury and been an instructor at 1st Marine Division's Sniper School. He's also been teaching shooting since he got out of the military, and I've heard nothing but good things about the quality of his instruction.
Why am I telling you this? Because he'll be teaching two Magpul Dynamics courses at Sniper Country (also known as the Desert Tech Training Facility), hosted by Deliberate Dynamics, in March. The first is a three-day DMR course on March 22-24, and the second is a four-day introduction to precision rifle course on March 26-29. The courses are all-inclusive, meaning that one price pays for your lodging, food, and the training. More information can be found here.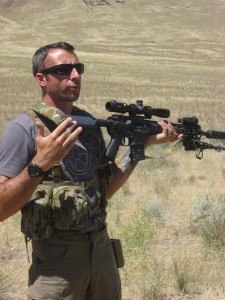 I have co-taught a good number of courses at Sniper Country, and at first it was basically a very large open range with steel targets out to 1800 yards. Desert Tech has since put a lot of money in the facility, with new improvements coming on line at a rapid pace. It's a really awesome place for a shooting class, and Caylen is a pretty awesome guy to take a class from. If you have the time, I highly recommend taking one of these courses. Tagged as: magpul, training