PRESS RELEASE
Staff Review: Deliberate Dynamics Universal Speed Tab
---
The Universal Speed Tab, made by Deliberate Dynamics, is a solidly-made hand stop that attaches to your military standard Picatinny rail. I'm not a stranger to various hand stops and vertical grips, so let's compare the UST to its competition.
In a previous article I evaluated the Mount-N-Slot hand stop. Like any hand stop, it allows for greater control of the weapon in rapid fire. More importantly, it can attach directly to a "slick" tube with the proper slots, though it is in no way uniquein this feature. Furthermore, I had continual difficulty with my sweaty hands sliding off of the hand stop provided by Impact Weapons. I even used Koffler A638 Anti-slip Resilient tape on the hand stop to alleviate the problem. While this was a decent stop-gap solution, it shows a failure in foresight.
There's no such problem with the Deliberate Dynamic Universal Speed Tab. The UST incorporates several interesting and useful design. First and foremost is the custom grip tape included with the UST. The skateboard tape is pre-cut to the shape of the sloping face of the UST. The aggressive texture allows the shooter to pull the carbine tight into the shoulder, achieving faster follow-up shots in the process.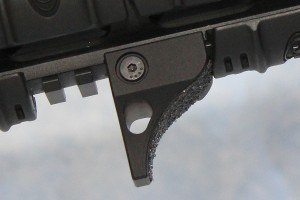 Alternately, the UST can be used to index the shooter's grip by providing a front limit on a longer railed handguard. The flat side of the UST can be used to brace against barriers and other obstacles. I don't tend to use it in this fashion, but it can be done, and done very effectively.
I like the UST so much that I put an additional rail onto my Midwest Industries Gen2 free-float handguard, just so that I could run the speed tab. Yes, the rail increased the diameter of the handguard, but it was worth it to me. If you're in the market for an excellent handstop that attaches to a Picatinny rail, look no further.
About Deliberate Dynamics
Deliberate Dynamics, Inc. (DDI) supplies professional gunfighters with the best possible equipment.

We actively work to provide the most detailed product descriptions, pictures, and demonstrational videos to help you make decisions on what will work for you. Our products are constantly being tested and evaluated by SOF operators that are currently working in high threat environments around the world. When we say something works, it works in the field, on the road, and when it is supposed to, not just at the local range with your blue jeans on.