How this weapon-mounted light is different from the rest
The GL19R by Fenix Lighting is a tool every officer can rely on
---
Sponsored by Fenix Lighting
By Victor Masters for Police1 BrandFocus
"One light is none. Two lights is one. Three lights is minimally prepared!" This was drilled into my head from the first day I stepped foot in the academy. This was quickly followed up with "Your lights will all fail when you need them the most no matter how much you spent on your tacticool 3-million lumen lights!"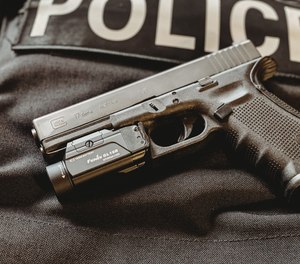 These words of wisdom proved to be true on multiple occasions when several of my industry standard handheld and weapon-mounted lights (WML) gave out or malfunctioned at the worst possible moments. These failures at critical moments and my instructors' words of wisdom warning of such reinforced one thing in mind: Brand name and high price do not always equate to quality or reliability.
I recently had the opportunity to test out the Fenix GL19R WML. While Fenix Lighting is no stranger to the illumination game, they are fairly new to the WML market. The GL19R came extremely well packaged in a durable plastic container that held the WML and a USB-C charging cord for its rechargeable battery.
POWERING IT UP – RECHARGEABLE MEETS TACTICAL
Right off the bat, the rechargeable battery feature is a game changer. Most professional-grade flashlights are rechargeable, yet the WML hasn't caught up to this option, mainly due to the size constraints of fitting a battery and a charging port in the compact size of a WML without adding bulk or weight.
Thanks to its engineering, the GL19R is not any bigger or heavier to accommodate than most industry standard non-rechargeable WML systems. In fact, the GL19R is just slightly smaller and lighter than my Streamlight TLR-1HL. The provided USB-C cable gives you plenty of options for charging via a computer, wall charger or power block and the GL19R is rated to run for two hours before requiring a charge.
The rubber USB-C port cover keeps water and dust out of the charging port and the 2-meter waterproof rating for the GL19R further helps to keep it running, particularly in the elements where I work in the Pacific Northwest.
ATTACHING MADE EASY – SLIDE AND LOCK
The forward-thinking attachment mount on the GL19R makes attaching it to your duty pistol quick and easy. Attachment requires simply flipping up a lever on the side of the GL19R up to unlock it, sliding it onto the rail and then flipping the lever back down to lock it into place. The lever remains flush with the side of the GL19R and doesn't protrude or otherwise get in the way.
There is a removable "key" on the top of the GL19R which is a small horizontal rail specifically designed for Glock rails that helps to maintain the positioning of the GL19R by allowing the horizontal rail to tuck into the groove on the underside of your Glock duty pistol.
While the GL19R is very secure via its lever retention system, the horizontal rail further stabilizes the GL19R by eliminating any chance of forward movement when you are manipulating the light controls. The beauty of this system is that it eliminates the need to have a screwdriver or other flat object to secure the WML into place. If there is any play in the GL19R once it is secured, there is a small flathead screw on the side that can be tightened down to slacken its grip on your pistol's rail.
I was quickly and easily able to attach the GL19R to my Glock 17 duty pistol with no issues. The GL19R also fit on my Heckler & Koch VP9 Picatinny MIL-STD-1913 rail and my Heckler & Koch P2000 rail with no issues or corrections needed to keep it tight on the rail.
For those that carry their duty pistol off-duty and or just do not like the bulk of a WML off-duty holster, the GL19R is the perfect choice to be able to quickly remove your WML at the end of your shift to go home and then reattach it for duty use when you get back to work.
WILL IT FIT IN MY DUTY HOLSTER?
Speaking of holsters, one major consideration when selecting a WML is "Will it fit in my duty holster?" You can have the most high-speed and expensive firearm and WML setup out there; however, if there isn't a holster available for it that meets your department's retention and durability requirements, that high-speed firearm and WML will never see a day of duty use.
Fortunately, the GL19R attached to my Glock 17 and fit in my Level III Safariland 6360 holster made for a Streamlight TLR-1HL with no issues. There was no wiggling or other issues and in the many practice draws I did, the GL19R didn't get caught or hang up on the holster at all. It also fit in my Safariland 6360 Heckler & Koch VP9 and P2000 holsters with no issues or modifications to the holster retention screw needed.
NATURAL AND EASY OPERATION
Now that I had the GL19R secured to my Glock 17 and ready for action, it came time to test out its operating controls. Having only ever used lights consisting of a lever that needed to be pushed up and down to activate and deactivate, the ambidextrous dual tail switch was quite a surprise.
Activating the on/off button with my trigger finger by lightly pushing the on/off button was very effortless and natural. The same was true when I started doing dry runs using the thumb of my left hand which was in its natural forward-facing pistol grip position to activate the on/off button with my left hand. A quick double tap of the on/off switch activates the strobe feature.
LET THERE BE LIGHT
Most industry standard WML systems clock in right around 800 to 1,000 lumens, yet the GL19R is rated at 1200 lumens. There was a noticeable difference in brightness compared to my Streamlight TLR-1HL, and even with that extra light, it didn't wash out the target or what I was illuminating with a harsh light, which can be blinding not only to a suspect but to the officer as well.
The GL19R even comes with two light settings. "Standard" is a softer, more diffused light and "Turbo" is a brighter light setting. Both are easy to achieve with minimal manipulation of the on/off button.
Another major selling point for me is the fact that it is almost impossible to accidentally activate the strobe feature. If you've ever done night-fire training, chances are either you or someone next to you has blinded the whole group by accidentally setting off the strobe function on their WML. While there is a strobe feature on the GL19R, it requires two rapid taps of the on/off button to activate.
A GREAT WML SYSTEM AT A GREAT PRICE
If you're in the market for a new WML that's rechargeable, bright, durable and easy to attach/detach, I highly recommend checking out the Fenix GL19R. After spending several weeks with it, I would have no hesitation carrying it as part of my duty setup on my Glock 17. It is lighter, brighter and easier to manipulate than many of the industry standard WML systems out there today, and its price point also makes it a bargain for those that have to purchase their own duty equipment or upgrades out of pocket.
Visit Fenix Lighting for more information.
Read next: See the unseen with this powerful tactical flashlight
About the author
Victor Masters is an active-duty police officer for a municipal police department in western Washington. He began his career in 2010 with the U.S. Border Patrol in El Centro, California. He has served as a patrol officer, forensic artist, intelligence agent and public affairs agent. Since 2016, he has been assigned as a public information officer and recruiter.

Request information from Fenix Lighting
Thank You!