See the unseen with this powerful tactical flashlight
The high-lumen TK16 V2.0 from Fenix Lighting can cast light nearly a quarter-mile with its high light output, long battery life and durable construction
---
Sponsored by Fenix Lighting
By Dustin Dodd for Police1 BrandFocus
Your department has trained and equipped you to hit the streets. Venturing out to go 10-8, you rely upon the training and issued gear to stare down an infinite number of threats in rapidly changing environments every single day.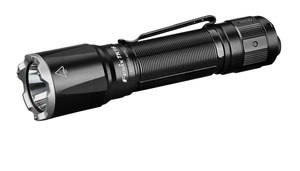 Yet there are few things in this line of work that you truly depend upon for survival. Your vehicle, your weapon and your armor are chief among them. You use your assigned vehicle each shift. Hopefully you are never called upon to use your weapon or need your armor. But the one thing you absolutely cannot live without is the one thing you use every waking second of every single day – your eyesight.
The ability to see well is critical to all you do. For those who work during the day, the sun does the heavy lifting. It bathes everything in blazing light, making it easier to process the information piercing your retinas, searing the imagery into your brain. For those who work at night or in low light conditions, well, you're not as lucky. 
ADVANCING A CRITICAL TOOL FOR COPS
Flashlights are vital for law enforcement officers each and every day. Like all other tools on your belt, advancements in flashlight technology have grown by leaps and bounds. Companies have laid to rest the old guard of incandescent bulbs and their faint, yellow glow. The flashlight industry was reborn with the advent of light-emitting diodes (aka LEDs), shedding candlepower in exchange for the ability to reach new heights in lumens. But not all companies create equally, even though the high prices of some may look like they do.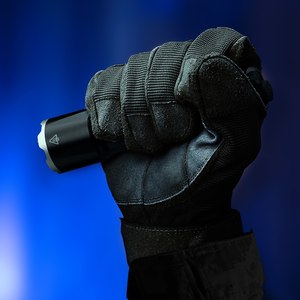 Developed in their own, in-house facility under tight quality control, Fenix Lighting has released their new TK16 V2.0 tactical flashlight. Backed with a limited lifetime warranty against defects in material and workmanship, as well as an offer of repair within the first five years if the light is damaged in normal operating conditions, the TK16 2.0 is sealed in a rugged, IP68 dustproof and waterproof chassis. The bezel is made from stainless steel with three tungsten steel glass breaking tips, making it ideal for breaching windows or as an improvised secondary impact weapon.
The craftsmanship of the lightweight, A6061-T6 aluminum housing is clear when it can withstand a 1.5-meter drop test and function after being submerged underwater for 30 minutes. Durable and reliable, the TK16 2.0 will work in climates ranging from -35 to 45 degrees Celsius.
Powered by a 5,000mAh lithium-ion battery rechargeable via USB-C, the TK16 V2.0 has an advanced pulse-frequency transmission system with five different intensity settings, and the light packs up to a blistering 3,100 lumens. The battery life measures up as well, with a runtime just shy of two days in eco mode or just over two and a half hours in turbo mode.
This handheld unit can cast light up to 1,247 feet away. That's just shy of a quarter-mile for under $100.
SEEING IS BELIEVING
Fenix is so sure of their product that they sent me a TK16 V2.0 to prove it. The light arrived just in time for our fourth-quarter night qualification at the range.
After a short charge with my desktop computer, I took the flashlight up the hill after nightfall. To say it was bright is an understatement – my quarterly qualification was "at night" using Fenix's handheld torch. The tactical tail switch activated the strobe, which would have blinded anyone looking at it. (Be careful of reflective surfaces to avoid being negatively affected by your own tool.)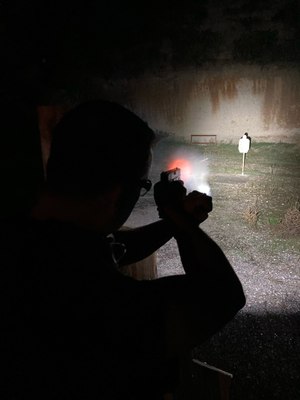 With a quick couple of presses of the function button on the tail, I selected the turbo brightness level. The Fenix beam flooded the range and made my job really easy. I qualified quickly. Astonishingly, and a word of caution to the user, the flashlight put out so much energy that the light housing became hot to the touch. But what surprised me the most about the Fenix TK16 V2.0 was when the Range Master called an early ceasefire. 
I inserted a fresh magazine while the other officers stood to the side. I began firing in a steady rhythm and I could hear the "woah" over the sound of my gunfire and through my hearing protection. The Range Master asked them what they saw.
The Fenix TK16 V2.0 beam had illuminated my rounds, reflecting light off the bullets in flight. One officer said they looked like tracer rounds, like something out of a movie. It was impressive.
Fenix's TK-16 V2.0 tactical flashlight literally let us see the unseen and has raised the bar of the tactical application of light to new heights … roughly a quarter-mile higher.
Visit Fenix Lighting to learn more.
Read Next: Fenix Lighting's handheld flashlights allow LEOs to do their job day or night
About the author
Dustin Dodd is an active-duty detective supervisor for a municipal police department in the California Bay Area. He was sworn in 2001 and his assignments have included: K9 handler, Explosive Ordnance Disposal, SWAT Explosive Breacher, drivers training instructor, traffic accident reconstruction, computer and cellular phone forensic examiner.

Request information from Fenix Lighting
Thank You!