PRESS RELEASE
Blue Line Innovations introduces the world's first 360° helmet camera
---
The first helmet mounted camera specifically designed for motor officers to offer a 360° situational awareness solution
Blue Line Innovations, LLC today announced the release of the Motor 360, the world's first 360° helmet mounted camera specifically designed for the motor officer. Combining the simplicity of in-car video with the mobility of a body camera, no other camera on the market provides the convenience for motor officers like the Motor 360.
Blue Line Innovations is proud to partner with Super Seer, the leading manufacturer of law enforcement helmets in America. With 85% of the U.S. market, Super Seer helmets are also used by mounted and riot officers in Canada, the UK and Australia. Notably, all their helmets are fully manufactured and assembled in Colorado.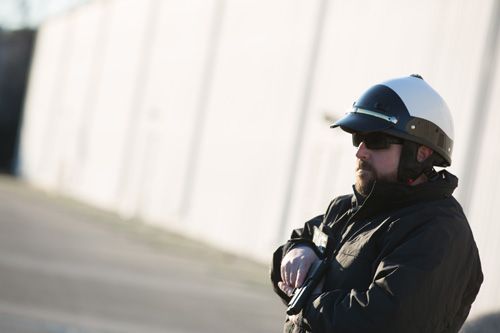 The circuit board and electronic components are molded into the interior and foam areas of the helmet for a comfortable fit, while video is triggered by Bluetooth when emergency equipment is activated. The inconspicuous location of the Motor 360 camera on the helmet captures complete incident details without obstruction in seamless 360° video.
Waterproof and shockproof, the camera offers up to 12 hours of operation time and 4 hours of continuous record. Another feature, the Motor 360 helmet is fully customizable to conform to a department's fleet and uniforms.
"Super Seer is dedicated to providing Motor Officers with truly innovative helmet solutions that introduce new features and applications needed to protect and improve the officers' effectiveness in the field. We are excited to incorporate Blue Line Innovations expertise in body worn 360° camera technology into our line of police helmets proudly made in the USA", said Steve Smith, President of Super Seer.
The Motor 360 camera utilizes Fortify™, BLI's end-to-end digital case and evidence management platform, that equips law enforcement to make more efficient reporting decisions, cutting upload time in half with a simple interface and automatic uploads.
Blue Line Innovations spotlighted the Motor 360 along with their other 360° law enforcement and surveillance solutions at the Capital of Texas Police Motorcycle Chute Out held at the Typhoon Texas in Pflugerville from March 7 – 10, 2018.
About Blue Line Innovations
Blue Line Innovations, LLC is a cutting-edge, law enforcement and military technology company established by a former law enforcement officer. Established in 2017, the BLI focus is centered around protecting the 21st century officer, capturing and securing the truth. We specialize in 360° body cameras, evidence management solutions, and surveillance. For more information on Blue Line Innovations, please visit 
http://www.BLI360.com.

Request more info from Blue Line Innovations
Thank You!