PRESS RELEASE
Blue Line Innovations introduces the world's first 360° tactical helmet camera
---
Designed specifically for law enforcement, military and SWAT teams, it is the first helmet mounted camera to offer a 360° situational awareness solution.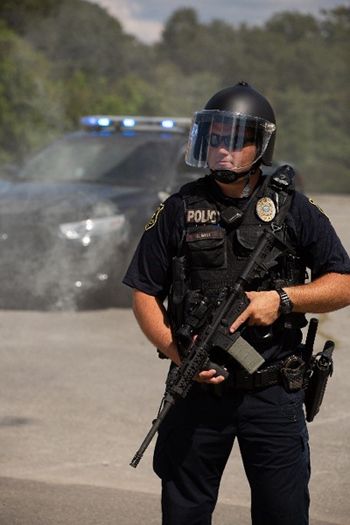 CHATTANOOGA, Tenn. — Blue Line Innovations, LLC recently announced the release of the Tactical 360, the world's first tactical helmet with an integrated camera that captures audio and full 360° video surrounding the officer at all times.
Specifically designed for the fluidity and uncertainty of tactical operations faced by law enforcement & corrections officers, SWAT teams and the military, the Tactical 360 combines a rugged construction with simplicity resulting in a balance of high tech and non-compromising functionality. The low-profile helmet location provides mobility and doesn't divert the officer's attention.
The full-coverage shell is designed to meet various threat levels including low velocity projectiles during potentially aggressive situations, such as bottles, rocks, and bricks. Riot face shields fit over most gas masks with an optional rubber seal to prevent fluids from getting into the officer's face and eyes. Each helmet is fully customizable from paint to interior options, fastening options, and riot accessories.
Blue Line Innovations is proud to partner with Super Seer, the leading manufacturer of law enforcement helmets in America. With 85% of the U.S. market, Super Seer helmets are also used by mounted and riot officers in Canada, the UK and Australia.
"Super Seer is proud to provide innovative helmet solutions that introduce new features and applications needed to protect and improve effectiveness in the field. We are excited to incorporate Blue Line Innovations expertise in body worn 360° camera technology into our line of helmets proudly manufactured and assembled in Colorado, USA", said Steve Smith, President of Super Seer.
About Blue Line Innovations
Blue Line Innovations, LLC is a cutting-edge, law enforcement and military technology company established by a former law enforcement officer. Established in 2017, the BLI focus is centered around protecting the 21st century officer, capturing and securing the truth. We specialize in 360° body cameras, evidence management solutions, and surveillance. For more information on Blue Line Innovations, please visit www.BLI360.com

Request more info from Blue Line Innovations
Thank You!