PRESS RELEASE
MOD Armory Announces PVS-14 RC
---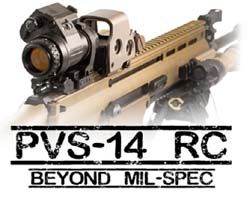 Colorado Springs, Colo. – MOD Armory, a leading manufacturer of night vision and tactical equipment, is introducing the PVS-14 RC. Designed for recoil ruggedness and shock protection, the PVS-14 RC is rated .308 Winchester and larger calibers depending on custom configuration.
As popularity for night vision mounted to higher caliber rifles continues to grow, so does the need for superior recoil management, both inside the image intensifier and the monocular housing.
Key features of the PVS-14 RC:
Image Intensifier
• In cooperation with ICT labs, MOD Armory brings a never before commercially available variable gain MX-11769(A) type power supply, paired with high performance generation 3 unfilmed modules ensuring maximum low-light capability and gain control.

• A revolutionary new power supply that continuously monitors recoil impulse and actively compensates when shock forces are beyond rated shock levels (ARC technology).

• Improved mechanical shock isolation within the image intensifier.

• An all new autogating circuit design providing improved highlight resolution.

• Up to 10 times faster gating over standard filmed tube power supplies.

• Three year recoil shock warranty.
Monocular Housing
• The PVS-14 RC Housing features a new CR123/AA battery pack that accepts either battery without the hassle of adapters and streamlines battery choices.

• Upgraded 6061 aluminum infinity stop ring for improved weapon mount interface works with all ring-style QD weapon mounts. This ring prevents the QD weapon mount from interfering with the objective focus and reinforces the PVDS-14 when attached to a weapon with a QD ring mount.
About MOD Armory
MOD Armory  (Cage Code 5XW 14) is a government contractor specializing in night vision, thermal and related accessories. Our company only provides the best equipment in the industry. We are located in Colorado Springs, CO and work closely with our Military and Law Enforcement agencies to provide in-depth understanding and rigorous testing of the products we stock. For Law Enforcement we conduct training from basic course work to complete operator's courses. As a thank you to our soldiers MODArmory ships free to APO's / FPO's (less than 30LBs). With over 8,000 sq ft of retail-warehouse we can immediately outfit a unit.