PRESS RELEASE
PROTECH Tactical Introduces New R2S System for Ballistic Helmets
---
New R2S System Compatible with ACH/Warrior Style Helmets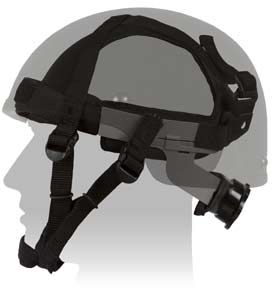 JACKSONVILLE, Fla.
-
Safariland, LLC
announced today the launch of the new R2S™ System (Ratchet Retention Suspension System) for PROTECH® ballistic helmets. Utilizing proven retention technology from the construction and industrial safety industries, the R2S System tightens and conforms to the wearer's head for optimum comfort with a simple twist of the easyto- grip knob located at the base of the helmet, ensuring a secure fit for any head size.
"PROTECH Tactical developed the R2S System to offer the helmet wearer added stability while providing a comfortable and secure fit," said Dan McNeil, Director of Category Management for PROTECH Tactical Armor.
The R2S System combines the mesh-crown suspension system used in PROTECH ballistic helmets along with the R2S retention technology. The mesh crown system comprises a fourpoint, height-adjustable floating pad in the front of the helmet with a chin strap. This new design enables the user to easily tighten or loosen the helmet to keep it secured to the wearer's head for a customizable fit. The result is a helmet that easily adjusts to each individual wearer's head for excellent comfort.
The R2S System is compatible with the PROTECH Delta™ 4 family of ballistic helmets or any large ACH/Warrior style helmet with a 4-bolt pattern and can be easily installed as a replacement for existing suspension systems. The R2S System also incorporates 360° of comfort foam, moisture-wicking pads including a removable nape pad for added comfort and stability.
The PROTECH R2S System is available now. For more information on the R2S System or any other tactical armor offerings visit:
www.protechtactical.com
.
About Safariland
Safariland, LLC is a premier global provider of trusted, innovative, high-quality law enforcement and security products for the public safety, military and outdoor/personal protection markets. Offering many of the world's most recognizable names in these markets, principal brands include ABA®, Second Chance®, Safariland®, Bianchi® and Break Free®. Forensics brands include Identicator® and NIK®. Safariland's mission, Together, We Save Lives, is inherent in the life-saving products it delivers. Safariland, LLC is a privately held company with headquarters in Jacksonville, Fla. For more information about Safariland and its brands, please visit
www.safariland.com
.