These holsters pass the test for durability and ease of use
I tried several new Alien Gear Holsters products during my shift – here's how it went
---
Sponsored by Alien Gear Holsters
By Jerrod Fraley for Police1 BrandFocus
If you're looking to improve the speed of your draw from a professional grade triple retention duty holster or find a reliable and comfortable holster for plain clothes assignments that fits your gun, light and/or optic combination, then Alien Gear Holsters deserves serious consideration.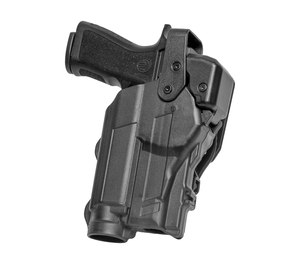 I was afforded the opportunity to test and evaluate several of their duty series holsters, and I was pleasantly surprised with both the functionality and the durability of their products.
RAPID FORCE DUTY HOLSTER
Alien Gear Holsters has hit the ground running with valuable input from both law enforcement and military personnel to create duty-grade holsters that appear to check all the boxes. Their level three Rapid Force Duty Holster appears to be very durable and offers the ability for the user to perform fast draw times with a very natural and intuitive movement.
This holster offers either level two or level three retention depending on whether the optic shroud and hood are engaged or not. This gives the user incredible security when drawing from level three retention or having to quickly reholster and utilize the level two retention while transitioning to a less-lethal option.
When drawing the firearm from the level three retention position of the Rapid Force Duty Holster, the patented Gross Motor Response retention system allows the user to defeat two of the three forms of retention with one straight-down press of their thumb. This allows the user to immediately establish a master grip on the firearm, even under stress, without having to navigate multiple angles or movements required to draw their firearms as found on many other duty holsters on the market.
The metrics and times that I experienced on a shot timer proved this to be a very easy and effective holster to rapidly draw from. Whether you are an experienced law enforcement officer, SWAT operator, or a brand new officer, there should be zero issues utilizing the Rapid Force Duty Holster.
When it comes to the durability of this holster, it appears to be able to withstand some harsh treatment. Ohio seems to experience all four seasons within a very short period, and I had very little issue running this holster in the heat, humidity and rain as it functioned flawlessly.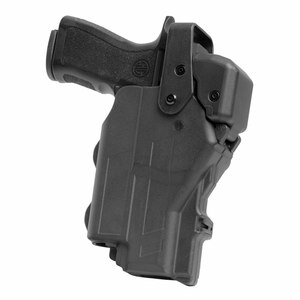 It should be noted that the Rapid Force Duty Holster is also offered in a configuration for compact weapon-mounted lights. This design maintains the same level of retention, durability and functionality as the full-size version, but its reduced form factor ensures high levels of comfort during long hours in a patrol car.
Both designs of the Rapid Force Duty Holster, full-size and compact light versions, are compatible for use with their Quick Disconnect System allowing the user to transition their holster easily and quickly between four different configurations depending on their carry preferences and needs.
Alien Gear Holsters offers a belt slide, paddle, MOLLE and swivel drop leg. I transitioned between the belt slide and swivel drop leg to test the functionality between the two for both of my job responsibilities. I found both to be very natural and effortless when drawing the gun and utilizing natural body index points. There was no struggle to "find" the holster or "fight" it to draw the firearm and get accurate rounds on target within an incredibly quick time standard.
RAPID FORCE LVL TWO SLIM HOLSTER
If you're looking for an outside the waistband holster for off-duty and/or plain clothes assignments that offers level two retention, then this might be the holster for you. The Rapid Force LVL Two Slim Holster is not only slim in design, but it is light-bearing and optic compatible, making it the perfect counterpart to their Rapid Force Duty Holster with triple retention. The design and functionality of this level two retention holster fell right in line with their Rapid Force Duty Holster, making the draw stroke very fluid and natural.
PHOTON HOLSTER AND SIDECAR MAG CARRIER
If you're an officer looking for a holster that gives you multiple options in the way you carry, meaning IWB, OWB, AIWB, with or without an additional magazine, all while allowing optic compatibility, then the Photon Holster may be the choice for you. This holster combines comfort, concealability and versatility all into one package while giving multiple carry choices in both light-bearing and non-light-bearing options.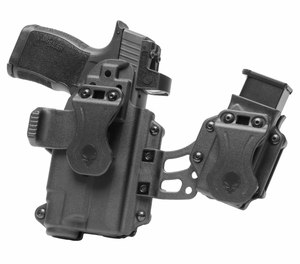 You can also opt to purchase the Photon Sidecar Mag Carrier if you prefer or are required to carry an additional magazine. This mag carrier can be either attached to the holster or worn separately as either IWB or OWB. This holster and mag carrier combination was comfortable and versatile for any carrying position and setup choice I put it in, even for longer wear times.
FINAL THOUGHTS
Alien Gear Holsters is making a splash in the law enforcement community with their professional grade duty holster options. While I only had these holsters to test for a short period, their design and quality appear to be very well thought out, so long-term durability shouldn't be an issue. And, the patented Gross Motor Response retention system on their Rapid Force Duty Holster allows officers to instinctively draw their firearm from their level three retention holster just as quickly as a traditional level two retention holster. Alien Gear Holsters provides quality options for law enforcement officers of any assignment with many firearm, light and optic combinations available.
Visit Alien Gear Holsters for more information.
Read next: Improving your draw
About the author
Jerrod Fraley is an active-duty patrol officer in Ohio. His assignments have included patrol, detective, FTO, regional SWAT team member and training coordinator, as well as serving as a member of his department's training staff. In addition to his primary duties, he is also a member of the (Ohio Tactical Officers Association) Red Team Instructor Cadre, where he teaches basic and advanced SWAT and firearms courses across the state.

Request information from Alien Gear
Thank You!