How a local event brings gun and knife enthusiasts together to help injured officers
A block party hosted by a local retailer works to create a culture of camaraderie and raise money for wounded officers
---
Sponsored by Benchmade Knife Company
By Police1 BrandFocus Staff
It began in the wake of what Josh Kehler referred to as a "lack of community-based engagement among law enforcement, their vendors and the public."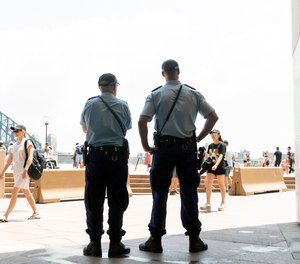 At the time, according to Kehler, there were very few gatherings that offered a shared space for meaningful exchanges among law enforcement and the firearms and knives industry. So he and a few folks from Oregon RifleWorks, a gun and firearms shop in Tigard, Oregon, decided to put together an event that would be especially welcoming to all gun-and-knife enthusiasts from diverse backgrounds.
That's how the Oregon Sheephitters Party –which combines the terms pipe hitters and sheepdog– was started in 2017.
"Think of it as a barbecue party with food trucks and people who share common interests having a great time," said Kehler, who founded Oregon RifleWorks.
The event started out featuring seven vendors, including Benchmade Knife Company, which all gathered to promote a community event that wanted to bring fun but also purpose to the gathering. The first year, all proceeds and raffle ticket sales went to the Tigard Police Department.
The following year, the number of vendors doubled to 14. This time the community rallied around a former Tigard officer who suffered multiple injuries from a December 2017 crash that required extensive medical treatment. Almost $3,000 was donated to that officer.
"We worked with the Tigard Police Officers' Association to identify officers in need, and that momentum just grew over the years we've been hosting the event," said Kehler. "It's more centered on community building rather than profits and sales – we need more spaces like this that are dedicated to helping out officers who serve us."
The event also provides a place for gun and knife users, many cops among them, to ask questions of knowledgeable vendors.
Creating a culture of giving back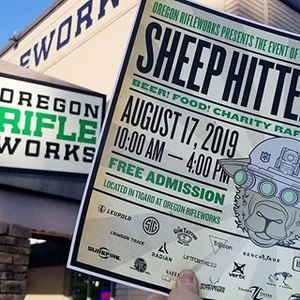 In the summer of 2019, while planning for the third annual Sheephitters Party was underway, Kehler and his colleagues learned of two Washington County Sheriff's Department SWAT deputies who were injured in a shooting near Hagg Lake, Oregon. With 22 vendors registered for this year's event, he felt that there was a bigger opportunity to make a difference for the wounded officers, who were dealing with critical injuries.
"The best news was when we heard from the Tigard Police Officers' Association that they would match the first $1,000 in proceeds that were raised for the deputies injured," said Kehler.
As a result, a total of $3,251.61 was donated to the injured deputies.
The annual Sheephitters Party aims to build on the culture it was founded on and to institutionalize its giving efforts to law enforcement by showing that it doesn't take huge corporations and big gatherings to create a meaningful way to connect the public with the law enforcement community.
"Benchmade [Knife Company] is a huge local brand, and we were thankful to have them participate from the beginning," said Kehler. "There's not enough direct consumer interaction at events these days, plus it's all profit-driven and expensive to get to. Our event is all volunteers, and no company pays or is paid to be with us. They're here because they want to support our local law enforcement community."

Request information from Benchmade Knife Company
Thank You!