How officers can be more resilient during a crisis
Bouncing back from adversity is a skill that you can strengthen with practice and persistence
---
Sponsored by Benchmade Knife Company
By Police1 BrandFocus Staff
It's especially challenging to work in law enforcement right now. There's the invisible threat of COVID-19 exposure as a front-line worker, the workplace hazards of being on duty, and then the feverish cries for reform following the killing of George Floyd, an unarmed Black man killed by the police.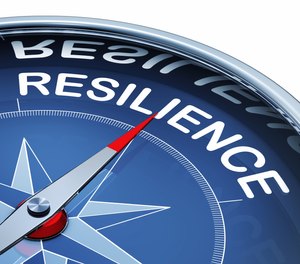 These challenges combined raise an important question: Who's looking out for our officers on the front lines, tasked with policing during these tough times?
Licensed mental health counselor and former police officer David Thomas, Ph.D., LMHC, worked as a police officer for 20 years before making the switch to counseling services and said he doesn't recall a more challenging time for law enforcement. He's met with so many officers who've shared how the continuous barrage of toxic online discourse has taken a toll on their sense of self and well-being.
"The anxiety is palpable," said Thomas, who also works as an associate professor in the Department of Professional Studies at Florida Gulf Coast University. "Now you see whole cities, whole communities, Black folks, white folks, everybody marching against the police, and it's taken on a new message – our officers feel like they're under siege."
But police have every right to remain hopeful, according to therapists like Thomas. That's because building resiliency is like any skill – with persistence and patience, you find ways to cope better even during the most unpredictable, uncontrollable, trying times.
Establish a healthy mental baseline with R.E.S.T.
"Doomscrolling," or the act of continuously scrolling through news that makes you feel sad, anxious or even angry, is one way officers are sabotaging their sense of well-being.
In fact, the first piece of advice Thomas shares with his clients who are officers involved in controversies at their police agency is to completely unplug from social media and the urge to follow up on public perception of the event.
Our propensity to dive deeper and deeper into negativity can be challenged by the R.E.S.T. framework Thomas recommends, which stands for:
Reflection: Find quiet time after you get home and review your day. Reflect on your calls for service, especially if one or several were stressful. Honesty is key as you think through the sources of the stressors and your feelings.
Evaluate: During your reflection, if you determine that there was a call for service that caused you undue stress, evaluate your performance, then attempt to find the source of the stressor.
Symptoms: What are you feeling because of your evaluation? Thomas says male law enforcement officers often struggle with the word "feelings." His advice is to keep in mind that bottling up feelings can be self-destructive.
Triage: Triage should be done as needed. The goal is to not become overwhelmed and to resolve those feelings as soon as you can. Talking to someone you trust can help open you up to new perspectives and find solace in knowing that someone can understand how you're feeling.
Invest in mental health training and tools for officers
Before he became the city manager of High Springs, Florida, Joel DeCoursey Jr. worked as a police chief for nearby Alachua, where he met a lot of younger Black residents who were vocal about their lack of faith in law enforcement. Some were even hostile, but throughout his 33-year tenure in policing, DeCoursey has always strived to turn tense interactions into memorable teachable moments of connection.
"It's about coming across a young person who feels intimidated, who feels like they're being targeted unnecessarily, and bringing them onto a bright path through a positive interaction," said DeCoursey.
He says there are plenty of opportunities for law enforcement to meaningfully respond to their community's calls for change and plenty of examples of positive policing in our communities that highlight the need for collaborative steps that don't undermine the work of good cops. For instance, DeCoursey supports training officers to emphasize preventing escalations and learning how to better identify and respond to calls involving citizens with mental illness.
"We need there to be stronger partnerships with mental health resources to better serve people whose underlying issue is untreated mental illness," said DeCoursey.
Law enforcement officials have become "the de facto facilitators of treatment for individuals with serious mental illness and those in the midst of a psychiatric crisis," according to a 2019 survey of police departments, despite many not having planned or trained to be in that role.
Those partnerships can't be built overnight, but rather require adequate funding for community-based mental health services and review of police-based crisis response models. Police alone cannot solve today's challenges and require collaboration and support from cities more than ever, says DeCoursey.
You're more resilient than you think
Research has shown that even those who have suffered profoundly can find meaning and optimism in their lives. This outlook and aptitude for compartmentalization is what sets officers apart from those who don't roll the dice every day in terms of encountering trauma.
What we know about building resilience is still a bit murky – we don't know exactly how we can become better at making stressful events less toxic. But we do know what we can control: how we invest in our relationships and how we respond to adversity.
"I'm fortunate enough to be supported so thoroughly by my community – I hear how much they respect and appreciate us, and I just know that's sadly not the experience of officers in a lot of places right now," said DeCoursey.
He hopes that changes soon.
Get more info from Benchmade Knife Company.
Read next: 10 ways cops went above and beyond during COVID-19

Request information from Benchmade Knife Company
Thank You!