How to find the only knife you'll ever need in law enforcement
Finding the right knife can come handy in situations where you need an edge. Here are 3 tips for your search
---
Sponsored by Benchmade Knife Company
By Sean Curtis for Police1 BrandFocus
There's one piece that police agencies don't always address in official policy. While you'll find them on nearly every peace officer from one end to the next, you also won't find a supply sergeant issuing them out. Can you guess what that piece is?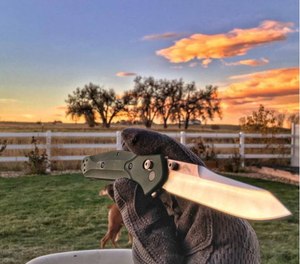 That's right. It's a knife.
Secondary weapons for different departments can range from what's in vogue or who is certified to carry what, but nearly every officer carries a blade. Next to the badge, uniform and gun, a knife is basically a practical tool that comes in handy for law enforcement officers (I'd say it's right up there with handcuffs even.) Knives can be worn on the belt, clipped into a pocket, or stashed on a vest, ready to deploy. While keeping all this in mind, here are a few tips to consider before making a choice for your next tour of duty:
Tip 1: Be mission specific and find a knife to go with it
Let's face it: we're extremely fortunate to live in a time where there are innumerable blade styles, shapes and materials used to create different knives. But having too many options can also be a challenge, since depending on the mission you're on, you'd want to pick and choose more carefully.
If you are a tactical operator, you may need something that will allow you to wedge a door, or sever a variety of materials with top-notch cutting ability. This often pushes knives to the extremes of their comfort zones (we all know SWAT breaks stuff). This is where a tactical multi-tool could be a great option. With Benchmade's 365 Outlast, you can approach nearly any mission with confidence. Tactical officers have a wide range of mounting and carrying options because their uniform is less about command presence and more about utility. Therefore, the sky (or your commander) is the limit.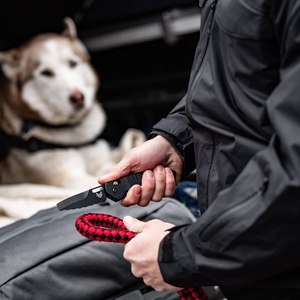 A patrol officer may want more of a knife that's the jack of all trades. The roles the average duty officer fills on a daily basis never ceases to amaze me. They may be cutting seatbelts, removing flex-cuffs, or freeing an entangled animal.  With proper training and policy support, officers can use their knives as defensive tools for weapons retention or as a backup when they're disarmed. There are a number of wonderful options in this class and they range from classic folding knives to karambit style fixed blades like the Azeria or even punch-style knives (like those in the CBK Family) that are usually smaller than what SWAT may opt for. Keep in mind that uniformed or patrol officers have many mounting options like duty belts or boots that help them carry quite a few different sizes and weights of blades.
And finally, just because you've been promoted to wear a suit and tie doesn't mean you suddenly lose the need for a cutting tool during your shift. Non-uniform personnel still have need of knives despite focus of their mission. Their clothes might be different, so this can often dictate the needs they have from their knife design. These types of officers still need a good cutting instrument, one that can be used in a wide array of scenarios, but one that doesn't tear up their pants when they wear it every day. Lightweight utility is the paramount feature combination here, and it can also apply to patrol and tactical units. Find a blade like the 537 Bailout that's so light, yet still strong enough to offer good cutting power and you are miles ahead.
Tip 2: Think about deployment when choosing your knife
Another critical factor to consider before placing any kind of blade on your uniform is thinking through how you plan on deploying your knife. Can you get to the knife and access it quickly?  This may seem like a strange question, but the truth is that law enforcement officials often need knives during the most dire of situations. Whether it's protecting yourself or cutting something down in a critically short amount of time, the ability to quickly deploy your knife into that situation is essential. Any folder that takes two hands to operate is a potential liability.  Thumb stubs, autos, and training on single-handed deployment can make all the difference in the world.  Find a blade that you can access and quickly insert to resolve your issue.
Tip 3: Ask yourself: will this knife stay on me?
One of the biggest mistakes you can make is getting a knife that won't stay on you. Do not select something that will clatter to the ground when you run. Do not pick a blade that tears off your vest when you climb over a chain link fence. And most certainly, do not choose a knife that will introduce itself into a hands-on situation when you have not called for it.
All the above are regrettable and avoidable with some applied wisdom. It's a frightening thought to think about a case when you reach for your knife and it's not there. No one wants to pay for a quality blade only to have its retention not serve you in your time of need. Finally, look for options such as secure sheaths, strong (reversible if needed) mounting clips, or MOLLE compatibility.
Lots of options, but few that last
Over the years I have learned that when it comes to buying something that might save your life or another's, it's better to look at these purchases as an investment. In other words? Don't cut corners. There are too many times during your career when a knife could let you down if you decided to go the cheap route. Find a blade that is going to serve your needs during your shift. Once you have decided upon a type, purchase a quality blade made with reliable materials. Make sure you are able to quickly deploy that knife into whatever situation you may call upon it for, and make sure it stays where you placed it until you need it. Once these factors are settled, pick up a quality version of what checks all these boxes for your mission and you'll never be disappointed. For some, that may mean picking up one of Benchmade's knives.

Request information from Benchmade Knife Company
Thank You!