Looking for your next blade? Here are 3 sharp options
A knife can be invaluable in so many scenarios, both on the job and off duty
---
Sponsored by Benchmade Knife Company
By Sean Curtis for Police1 BrandFocus
The holidays will be here before you know it. If you're shopping for yourself or a law enforcement officer on your list, you know how important knives are to first responders. On the job they are absolutely invaluable in so many scenarios – but don't forget: It's not just a work thing.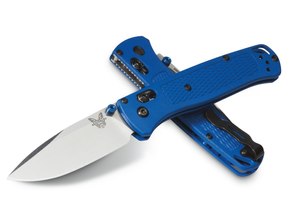 The siren call of action that often draws us so compellingly to the career occasionally finds us where we play, too, and the outdoor recreational activities that attract us also benefit from the presence of a high-value blade. Thankfully, Benchmade has a number of excellent gift ideas for your consideration.
Bugout Family 
Proudly made in the USA of CPM-S30V steel, the Bugout drop-point folder is a utilitarian master. With a 3.24-inch blade available in plain or serrated, you can choose which features you value most. The action is a manual open, accessible with a thumb lug on both sides of the blade so it can be opened with either hand. This is held rigid or released by the proven AXIS lock.
The handle is 4.22 inches long and comprised of a lightweight but tactile thermoplastic called Grivory, but there are other options. The clip position allows for a deep carry in the pocket, and it is reversible. It also features a lanyard hole for those who like a little extra security or utility. In addition, a section of metal jimping can be found in the liner near the pivot, right where the thumb typically rests.
The Bugout is extremely customizable. You can build your own from a lot of different options and even have it laser engraved. Overall, this is a Goldilocks knife that is just right, not too heavy, not too small, but just right for the cop on your shopping list.

Bailout 
The Bailout is a directed attack on some of the problems officers face on the street and provides a great everyday carry option. With a 3.38-inch long blade of CPM-M4 steel configured in a tanto point, the knife is a master at piercing. However, the sharp, plain edge still means it's a great cutter.
Manual open, accessed with a thumb lug on either side of the blade, the Bailout is also locked open or released with the AXIS lock. With a closed length of 4.71 inches, the handle is made of 6061-T6 aluminum which is rigid and lightweight, while still providing excellent grip. The reversible clip is also configured for deep carry, and the total package weighs in at just 2.7 ounces.

Infidel 
If you really want to make a statement with a gift, the Infidel will absolutely get it done. This is a stiletto-style automatic knife that deploys from the handle with a push of a button. The 3.91-inch blade is forged from CPM-S30V steel, and both sides of the blade are razor-sharp. It also comes with a diamond-like carbon coating for extra protection.
The handle is 5 inches long, made of 6061-T6 aluminum, and fully conceals the blade until the button unleashes it. The clip is mounted on one side, allowing for deep carry, and it holds the knife in a tip-down carry configuration. This knife is MOLLE-compatible and a great option for tactical use.

Don't Forget Accessories
What if the officer on your list already has an incredible collection of knives? By the way, you can never have too many. Every knife needs to be maintained, and a dull knife is a dangerous knife. Get your cop a knife sharpener that helps them maintain that edge while they're on the street or in the wild.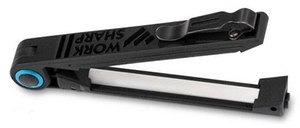 The EDC Edge Maintenance Tool is so small you can take it everywhere with you. The pros at Benchmade collaborated with the blade sharpening experts at Work Sharp and came up with this handy tool. The pocket-sized sharpener features a ceramic hone on one side that also has built-in angle guides for a consistent bevel during use. There is a pivot in the middle so you can open and close the device. The other side has a leather strop you can use to debur your keen, fresh edge. With a pocket clip, this thing is ready to go with you anywhere.

Another, more diverse option is the Guided Field Sharpener. Also developed with Work Sharp, this tool allows users to sharpen straight-edged knives, as well as serrated blades, scissors and even fishhooks. Slightly larger than the EDC, this tool packs in a whole lot of sharpening potential with a progression of five abrasive steps to get your cutting instrument shaving hair again.
Whether you're in the market to treat yourself or the LEO in your life, these knives and accessories cover a range of uses, from everyday carry to tactical to fishing and hunting.
Visit Benchmade for more information.
Read Next: This knife company collaborated with a long-time special ops trainer to create a knife that's not your average folder

Request information from Benchmade Knife Company
Thank You!