Detroit courthouse gets new contraband detection system
---

A man is scanned by the system before passing through a metal detector at the Frank Murphy Hall of Justice.
DETROIT, Mich. — The Wayne County Sheriff's Office has obtained next-generation technology to non-invasively detect concealed weapons and narcotics. With the assistance of Michigan-based First Response Solutions Inc., the Sheriff's Office recently introduced the T4400 system to screen people entering the Frank Murphy Hall of Justice, which houses the state's busiest criminal court. The passive terahertz imaging technology was developed by Oxfordshire, England-based ThruVision.
"The installation is the start of a trial by the Sheriff's Office," said Sheriff Warren C. Evans in a prepared statement. "The Sheriff's Office will test and evaluate the increased capability that ThruVision's T4400 terahertz imager can provide in the screening of visitors to the facility. We're honored to have been selected to be the first law enforcement agency in the United States of America to test this technology, and are grateful to ThruVision and First Response Solutions for providing us this equipment on a trial basis to help us better protect employees and visitors at our criminal court building," Sheriff Evans said.
How it works

Unlike competitive systems, the ThruVision device does not send any signals out (like radiation), but reads the natural energy off the body.
Clive Beattie, CEO of ThruVision Ltd., said in a recent company press release, "Unlike x-ray or some millimeter wave RADAR security imaging technology that is been evaluated at some airports and secured facilities, ThruVision's technology is totally passive. Images of concealed objects are formed by detecting the natural 'terahertz waves' emitted all the time by both people and objects, which makes the system absolutely safe for pregnant woman and people with pacemakers."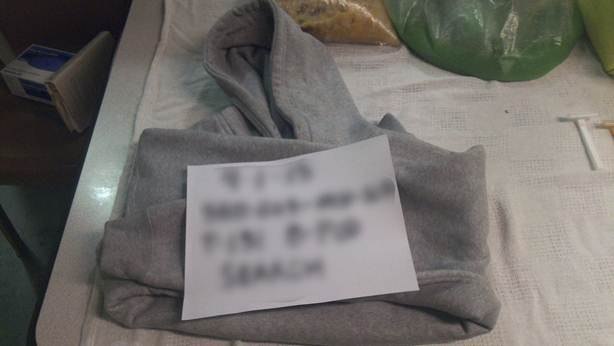 These low energy waves are then processed by ThruVision's software and displayed on a computer, providing images of concealed objects on a person's body without revealing anatomical detail. The system is not a replacement for metal detectors, but has been designed to work in conjunction with traditional screening systems.
Applications and implications

Charles Newsome, a retired Detroit police officer and president of security counseling company First Response Solutions, told Police1 in an exclusive interview that ThruVision is consistent with the needs of law enforcement.
"Using the ThruVision system doesn't mean that law enforcement officials have to change the way they're used to doing business," Newsome said. "After implementing the system, there is no need to dramatically change protocols or go through extensive training."
The ThruVision system is free-standing and can scan individuals that are waiting in line to pass through a metal detector. In this way, the system can be an "add-on" to the existing screening process. The device connects to a laptop computer that can be mounted at a workstation so that security officials can quickly and easily detect contraband weapons or narcotics that may pass through metal detectors, such as liquid or plastic explosives and ceramic edged weapons.
"ThruVision's technology eventually may replace 'pat down' screening in many venues," said Newsome. "The system is fast, and many people find manual pat downs unpleasant…this is the future of security screening."
The device has a visual and audio alert after detecting an object so that security officials can efficiently detain and search the suspect. The ThruVision system has been successfully implemented worldwide, including the busy London Heathrow International Airport, where it has been incorporated into the regular security checkpoint.

A security official uses a laptop computer to monitor the screening process.
"There are so many law enforcement applications for this system," Newsome said. "The perfect choice would be any large building with channeled public access; sporting venues, convention centers, airports, and courthouses for example. . . the options are really limitless."
The system has been up and running at the Frank Murphy Hall of Justice in Wayne County for two weeks, and has been extremely successful thus far.


Request product info from top Police Metal Detectors companies
Thank You!