PRESS RELEASE
Line of New Everyday Carry Lights includes First Responder-Specific Product
---
For more than 30 years, Bayco Products, Inc., the maker of Nightstick brand lighting products, has been delivering trusted solutions to consumers and professionals. This requires a deep understanding of the unique uses and needs of its customers, creating multifunctional flashlights, floodlights, and dual-lights that meet and exceed their demands. The company's latest product line release, the NIGHTSTICK® Multi-Functional MT-200 Series Mini-TAC Pro Flashlights is no exception.

Incredibly portable at 4-6 inches and a maximum weight of only 3.2 ounces, this line of everyday carry (EDC) flashlights is easy to handle and transport, making it perfect for a wide variety of uses. The line also includes the MT-230, a light specifically designed to meet the unique needs of Emergency Response professionals. Made of blue anodized aircraft-grade 6061-T6 aluminum, the recognized color of this profession, this light offers 3 settings designed to meet situation-specific needs of first responders.
Russell Hoppe, Marketing Manager for Nightstick, welcomes the opportunity to speak with you about how Nightstick is meeting the unique needs of first responders. We are also happy to contribute a by-line on a variety of related topics.
• A first-in-industry product launch
• The importance of this technology in health and safety of first responders
• Extreme portability and durability in an everyday carry flashlight
• Applicability of Nightstick products
• The use of CREE® LED technology to produce sharply focused beams of concentrated light
• And more
For access to the full release, click here. Images are available to click and save in the email below.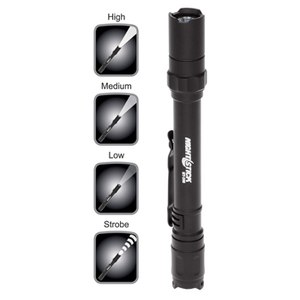 About NIGHTSTICK®
Designed and manufactured by Bayco Products, Inc., NIGHTSTICK is a global brand of professional lighting products, including flashlights, headlamps and Intrinsically Safe lighting solutions that continue to exceed industry standards in performance, quality, user-safety, and value. NIGHTSTICK's vast line-up of LED lighting products deliver optimal performance with real-world applications in mind. With an unwavering commitment to product quality and exceptional Customer Service, NIGHTSTICK is the professional's only choice. Life Depends On LightTM.

About Bayco Products, Inc.
For 30 years, Bayco Products' vast array of portable and corded lighting products, have been the preferred choice of professionals and discriminating consumers. In its 110,000 square foot facility, located in the Dallas, TX area, Bayco's dedicated engineering team continually seeks out innovative new product solutions that provide exceptional day-to-day utility and help maximize user safety. The NIGHTSTICK and BAYCO brands are established and recognized world-wide as high-performance, high-quality, high-value lighting solutions across virtually every industry.

For more information about Bayco Products, Inc., visit www.baycoproducts.com.
Find us on social media: Facebook, Twitter, LinkedIn, Pinterest, and YouTube.