PRESS RELEASE
Streamlight Renews C.O.P.S. Support for 17th Year in a Row
---
Company Also Donates Proceeds from Product Sales to Concerns of Police Survivors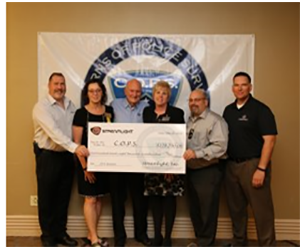 EAGLEVILLE, PA,– Streamlight®, Inc., a leading provider of high-performance lighting and weapon light/laser sighting devices for the law enforcement market, has renewed its sponsorship of Concerns of Police Survivors (C.O.P.S.). Now in its 17th year of sponsoring C.O.P.S., Streamlight's support helps to underwrite ongoing programs and activities for survivors of fallen officers. The company's contribution for 2016 totaled $128,700, including $13,700 in proceeds from recent sales of its Blue Nano Light®.

On June 7, Streamlight also hosted its 2nd annual C.O.P.S. 5K/Fun Walk at Lower Perkiomen Valley Park Trail in Oaks, PA, located close to the company's headquarters. Many Streamlight employees and associates participated in the run, which raised more than $4,000. Kim Weigand, mother of a fallen officer and Executive Director of the Pennsylvania chapter of C.O.P.S., spoke at the event.

Streamlight's support helped to fund C.O.P.S. activities in Washington D.C. leading up to National Police Week, May 15-21. As part of their annual event, which honors fallen officers and their families, Streamlight once again served as a major sponsor of the organization's annual survivor's luncheon. The company also was a sponsor of Law Enforcement United's "The Road to Hope" memorial bicycle ride, which helps to raise money for C.O.P.S. programs.

Streamlight earmarks $1.00 from the sale of each Blue Nano light to C.O.P.S.

The keychain flashlight boasts a super bright white LED and a double-sided FOB that features the C.O.P.S. logo on one side and the Streamlight logo on the other side.

Streamlight also recently introduced a Blue model of the Streamlight Siege® AA ultra-compact lantern, featuring one white and two blue LEDS. The company will donate $2.00 from the sale of each lantern, which features the C.O.P.S. logo on its globe, to the organization.

"Streamlight salutes C.O.P.S.' invaluable work in helping survivors of the fallen rebuild their lives," said Streamlight President and Chief Executive Officer Ray Sharrah. "As the lighting tool brand of choice by first responders, we feel a deep commitment to 'give back' to the law enforcement community. We are very proud to help this fine organization."

Streamlight's commitment also extends to the organization's programs throughout the year. Among them are C.O.P.S. Kids Camp and C.O.P.S. Outward Bound, as well as hands-on retreats for siblings, surviving spouses, parents, adult children, in-laws, and significant others. Streamlight is the lead sponsor of the Affected Co-Workers Retreat.

In addition, Streamlight is the lead sponsor of the Annual C.O.P.S. Walk, and a gold sponsor of the C.O.P.S. Walk Southwest. Both walks bring together survivors, friends and members of the law enforcement community and challenge them to walk 25 miles in two days to support C.O.P.S. and its mission.

For more information about C.O.P.S. and the programs it offers, visit www.nationalcops.org.

About Streamlight

Based in Eagleville, PA, Streamlight, Inc. has more than 40 years of experience making tough, durable, long-lasting flashlights designed to serve the specialized needs of professionals and consumers alike. Since 1973, the company has designed, manufactured and marketed high-performance flashlights, and today offers a broad array of lights, lanterns, weapon light/laser sighting devices, and scene lighting solutions for professional law enforcement, military, firefighting, industrial, automotive, and outdoor applications. Streamlight is an ISO 9001:2008 certified company. For additional information, please call 800-523-7488, visit www.streamlight.com or connect with us on www.facebook.com/streamlight; www.twitter.com/Streamlight; www.instagram.com/streamlightinc; and www.youtube.com/streamlighttv.

Request more info from Streamlight
Thank You!