PRESS RELEASE
TAC-540XL Xtreme Lumens Metal Multi-Function Tactical Flashlight
---
Bayco Products, Inc. is pleased to announce the release of the Nightstick® TAC-540XL Xtreme Lumens Metal Multi-Function Tactical Flashlight.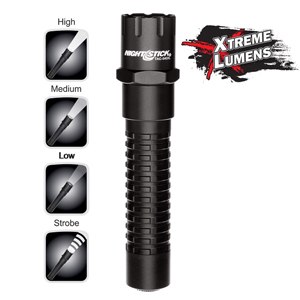 This compact recharge-compatible multi-function metal Xtreme Lumens tactical flashlight uses a CREE® LED rated at 800 lumens that works in conjunction with a high-efficiency deep parabolic reflector to create a usable beam rated at 205 meters.
The tail-cap switch provides momentary or constant-on functionality, a set of user-selectable high, medium or low-brightness settings as well as a disorienting strobe. Power comes from a pair of CR-123 batteries (included) installed into the CR-123 Battery Carrier (included).
The housing and tail-cap are made from aircraft-grade 6061-T6 aluminum w/Type III hard anodized finish. This light can be upgraded to a rechargeable model by adding the optional rechargeable Lithium-ion battery, charger and power cords.
For more information, click on the following links for the
TAC-540XL Product Flyer . Information can also be found on our website at www.mynightstick.com.
The TAC-540XL flashlights are now shipping daily to local Nightstick Distributors around the world. To find a Nightstick distributor in your area, please visit the Where To Buy section of our website today.
About NIGHTSTICK®
Designed and manufactured by Bayco Products, Inc., NIGHTSTICK is a global brand of professional lighting products, including flashlights, headlamps and Intrinsically Safe lighting solutions that continue to exceed industry standards in performance, quality, user-safety, and value. NIGHTSTICK's vast line-up of LED lighting products deliver optimal performance with real-world applications in mind. With an unwavering commitment to product quality and exceptional Customer Service, NIGHTSTICK is the professional's only choice. Life Depends On LightTM.
About Bayco Products, Inc.
For 30 years, Bayco Products' vast array of portable and corded lighting products, have been the preferred choice of professionals and discriminating consumers. In its 110,000 square foot facility, located in the Dallas, TX area, Bayco's dedicated engineering team continually seeks out innovative new product solutions that provide exceptional day-to-day utility and help maximize user safety. The NIGHTSTICK and BAYCO brands are established and recognized world-wide as high-performance, high-quality, and high-value lighting solutions across virtually every industry.