Ferguson, a tornado, and the All-Star Game: How 'Big Blue' keeps cops connected
Inside the Missouri State Highway Patrol's mobile command and communications vehicle
---
For years, coordination between law enforcement agencies and other first responders has faced a common problem: communication between these agencies is difficult because of the use of different radio technology. These different systems often lead to confusion and delayed response. The greater the number of agencies involved, the greater the complication.
This problem was brought to the forefront of the public's attention with the events of September 11, 2001.
The Missouri State Highway Patrol (MSHP) found an answer to this problem in a vehicle they affectionately call 'Big Blue.' This mobile command and communications vehicle (MCCV) was first deployed in 2010.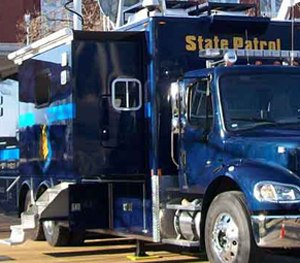 Inside Big Blue
Big Blue is outfitted with a variety of Cisco communications systems. The Cisco TelePresence Solution allows for meetings with remote participants and collaboration with external organizations. Cisco Wireless technology allows the MSHP to make vast use of the wireless infrastructure permeating the US and to prop up this infrastructure in times of crisis. Cisco United Communications Manager (CallManager) functions as the systems call-processing component. Cisco Mobile IP phones and Cisco IP phones make full use of Cisco technology and software while allowing for a full range of support for communication needs with a personalized touch.
Cisco IPICS (Internet Protocol Interoperability and Collaboration System) operates on any device or network and is the heart of Big Blue. This system integrates the various communication devices of all responding agencies. It allows for instant communication across different radio platforms or telephones utilizing a reliable IP network where such communication was once barred by incompatibility. Cisco IPICS is designed to allow the exchange of information over radios, telephones, mobile phones and computers in real time.
Multiple Deployments
On May 22, 2011, Big Blue received a major field test when Joplin, Missouri, experienced an EF5 tornado. The MSHP deployed the MCCV. They were able to quickly and successfully prop up the damaged communications infrastructure and were vital in coordinating local and state agencies.
When the Major League Baseball All-Star Game was held in Kansas City, Missouri, in 2012, Big Blue was used to coordinate additional law enforcement and security for the game and visitors.
In 2014, in response to the events that took place in Ferguson, Big Blue was used to support law enforcement responding to the civil unrest. Within minutes of arriving on site, Big Blue cast a web over the area that allowed the multitude of agencies to communicate in real time. Various communication devices, old and new, were integrated through Big Blue's Cisco IPICS.
Big Blue is commanded by Lieutenant Les Thurston, Assistant Director of the Information and Communications Technology Division. It is supported by a team of ten radio and computer personnel. Three to four personnel deploy with the vehicle and take about 45 minutes to set up the van and patch into the local radio frequencies used by the various agencies.
Big Blue is deployed four to five times annually. Funding for the MCCV was originally through federal grants but it is now maintained by the MSHP. Thurston admits that most people do not understand how the systems work, but after exposure to the speed and results, they stop asking. And as technology continues to advance, there is no doubt that the future looks bright for agencies and the communities they protect.