Ga. gov. awards $83.5M in federal COVID-19 grants for public safety
The grants are for 118 projects to aid public safety efforts and, in some cases, address law enforcement staffing issues that arose during COVID-19
---
By James Salzer
The Atlanta Journal-Constitution
ATLANTA — Gov. Brian Kemp on Thursday announced federally funded grants for 118 local projects to aid public safety efforts and, in some cases, address law enforcement staffing issues that arose during the COVID-19 pandemic.
The latest $83.5 million is part of the massive federal effort to address problems created by the pandemic. But the money that Democrats in Congress approved in March 2021 has also provided Kemp the opportunity to fund local anti-crime initiatives. He committed $100 million in COVID-19 relief money to crime-fighting efforts in August.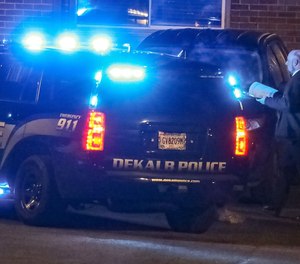 The governor has already doled out billions of federal dollars for law enforcement and first-responder bonuses, local water and sewer projects, programs to expand rural high-speed internet and grants to businesses impacted by the COVID-19 shutdown in early 2020.
Under state law, the governor decides how such federal grant money is spent.
Numerous metro police departments, cities, counties and school districts are receiving grants as part of the latest round of funding that Kemp announced. Much of the money will go to upgrade equipment and technology and support local crime prevention programs.
For example, the Atlanta Police Department will receive $1.65 million for gun-safety equipment and training for citizens as well as other technology upgrades. Chamblee will get two grants, including one to implement a program to pair mental health professionals with officers. Sandy Springs will receive $1.6 million for violent crime reduction teams. The DeKalb County School District will get $1.65 million for touchless security systems in all high schools.
Lithonia police will get $1 million to establish a mentoring program for 150 at-risk youth and young adults, while MARTA will receive $1.4 million to hire more officers.
In announcing the grants, Kemp said public safety is a priority of his administration.
"From tackling staffing needs to deploying new equipment and technology, these funds are being invested so that our brave first responders have the resources they need to fight back against dangerous criminals," the governor said.
—
©2023 The Atlanta Journal-Constitution.
Visit at ajc.com.
Distributed by Tribune Content Agency, LLC.
McClatchy-Tribune News Service