How UAS technologies are changing the way police view incident scenes
Responders can gain access to aerial views of the incident, as well as send real-time pictures and data to different locations
---
By Mike Worrell, P1 Contributor
A long-time FirstNet supporter, Charlottesville Fire Chief Emeritus Charles Werner has been a strong advocate for UAS technology as an additional tool for all public safety disciplines.
During his 42 years of service, Werner learned first-hand about the importance of communication and the value of new technologies when responding to major emergencies.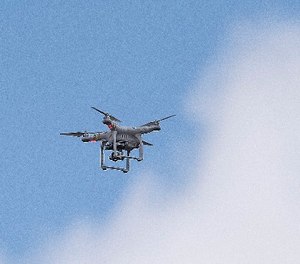 With the introduction of UAS devices for public safety use, first responders gain access to aerial views of the incident, as well as the ability to send real-time pictures and data to different locations.
"You actually get a 3-D idea of what's happening at an incident scene and that's really important for a responder." Werner says. "I can take that video from the drone and connect it to the FirstNet network and be streaming live video to all those people that are decision makers – whether they're incident commanders or the emergency operations center – simultaneously."
Werner recently initiated efforts to create the National Council on Public Safety UAS. In this capacity, Werner works to advance public safety use of UAS through awareness, education, training, collaboration and best practices.
With interest in UAS technology from emergency first responders dramatically increasing, the Council is keeping the public safety community informed about the evolution of UAS technology and its benefits, and gives public safety a voice to lend valuable guidance and influence as significant decisions are made about UAS issues.
Guidelines on public safety UAS
When the Federal Aviation Administration (FAA) released new guidance about UAS in 2016, the council played a key role in educating public safety disciplines about making this technology more accessible, efficient and safe for public safety use.
These new guidelines on public safety UAS use was one of several reasons the Los Angeles Sheriff's Department (LASD) made the decision to adopt UAS technologies to enhance and support tactical operations. The LASD will use UAS devices primarily for search and rescue missions or when deputies are in dangerous situations, such as during explosive detection, hazardous materials incidents, disaster response, arson fires, hostage rescue, as well as armed and barricaded subject calls.
The adoption of UAS technologies is expanding across all public safety disciplines as an additional resource for first responders to make better decisions in life-threatening situations. To advance 911 capabilities, the Spokane County Regional Intelligence Group 9 (RIG 9) in Washington State built a real-time analysis capability for 9-1-1 centers in the region.
RIG 9 analyzes video camera inputs and other sensors, such as UAS deployed around the city. These feeds could be part of a next generation 911 deployment, with the resulting analyses rapidly forwarded via FirstNet to responders for real-time decision-making during a crisis.
Making informed decisions during disaster management
FirstNet recognizes that with the necessary safeguards and guidelines in place, UAS technology can be helpful when used for specific missions related to law enforcement, firefighting, border patrol, disaster relief, and search and rescue.
In many states, including Georgia, statewide UAS programs have rapidly grown in the last two years. Georgia streams real-time video from the UAS to their SOC during initial damage assessments, enabling leadership to make informed decisions in the immediate aftermath of a disaster.
For incidents impacting multiple regions, Georgia also provides live footage from multiple UAS at once, giving a clearer picture of what is happening across the state. This capability proved very useful during Hurricane Matthew in 2016, when the state flew several missions per day for the first three days after the winds calmed down, conducting damage assessments of restricted areas and also providing aerial situational awareness to responders conducting search and rescue missions on the ground.
As UAS capabilities are enabling public safety to respond to and recover from disasters more quickly and more effectively than in the past, it's important to consider the limitations to using UAS technologies, and to consider what has curtailed the adoption of UAS in more states.
Restrictions on UAS use
In addition to the expenses incurred to purchase UAS equipment and train pilots, numerous legislative restrictions on UAS usage have been introduced to address privacy concerns. However, these federal restrictions have lessened over time, particularly for public safety usage, enabling more UAS programs to surface.
Poor weather conditions and technical limitations, such as weak cellular or Wi-Fi service in the area, also pose significant limitations to UAS operations.
In both situations, agencies without access to reliable broadband service when it matters most will not receive live stream video and be able to make time-sensitive decisions in the aftermath of disasters. Additionally, poor or disrupted broadband signals hamper the ability to send real-time photos and videos to responders on the ground searching for survivors.
---
About the Author
Mike Worrell, senior fire services advisor, has been with FirstNet since 2015. He served the Phoenix Fire Department for 29 years, most recently serving as the technical services division chief. Mike was also a member of the Public Safety Advisory Committee to FirstNet, a member of the National Urban Search and Rescue Incident Support Team, and a qualified communications unit leader and communications technician instructor. Prior to joining the Phoenix Fire Department, Mike was an electronics technician in the U.S. Navy, Submarine Service.