PRESS RELEASE
2D Label Now Used By Law Enforcement for Tracking Inventory and Assets
---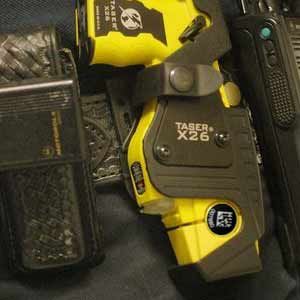 REDMOND, Wash. - Dynamic Systems, Inc., a leader in data collection applications, has announced a new label called the 2D Dot, to be used with the Checkmate Law Enforcement Equipment & Inventory Manager. This solution can be used by public safety agencies such as the FBI, corrections, security, sheriffs, police, SWAT, Secret Service, campus security, or airport police.

2D Dot Label Improves Safety & Efficiency
DSI has announced the availability of the 2D Label for law enforcement agencies who want to reduce the loss of gear and save time tracking down which piece of equipment is checked out to which officer. The 2D Label is made of a high performance acrylic adhesive and is only 3/8" in diameter, allowing it to be used on smaller pieces of equipment. See more at Barcode Labels.

It is easy to adhere the 2D label onto areas that won't interfere with the functionality of the equipment. The software also tracks consumables such as batons, masks, gloves and handcuffs.

"It's affordable for almost all agencies, even those with just a few employees," noted Bill Allen, Process Control Consultant. See additional information here.

"Loss of equipment and malfunctioning gear can be a major overhead cost for agencies. Our customers see a typical payback for the Equipment Manager within three to four months," states Alison Falco, President of Dynamic Systems. 

About Dynamic Systems (DSI)
For over 30 years DSI has been providing reliable and innovative systems that enable your department to work safely and efficiently. The addition of the 2D Dot capability to the Equipment Tracking System allows departments to effectively label smaller items such as pistols, radar guns, red dot sights, keys, flashlights, and radios with a resilient barcode. This technology can be used with the other Checkmate Solutions also, such as Inventory Management, Document Tracking, Evidence Tracking, Fixed Assets Management and ID Badge Printer Systems. Barcode data collection has been proven to be the most accurate and efficient method of tracking or counting items. For more information visit www.a-barcode.com.