Equal measure: 5.11 Tactical's women's pants line
Gear company finds success with products for female officers
---
By Scott M. Bruner
Police1 Product Editor
In a community usually dominated by the male market, 5.11 Tactical has found a surprisingly lucrative niche by bringing law enforcement products into the female realm. Though the well-established apparel company has been making women's products for two years, now, they've made quite a splash through sales, and at last month's SHOT show, with their newly unveiled Women's Tactical Pant and Women's Tac Lite Pro Pant.
"The women's pants have far exceeded our expectation in sales. We knew we would do well." David Hein, director of merchandising said. "We had an opportunity with the growth of women in law enforcement to become a leader in the market. We have brought on new people to develop a great fitting women's product."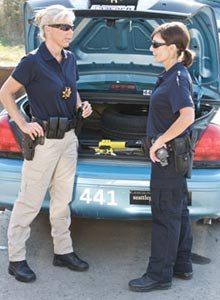 The women's tactical pants boast all of the same features as their male-focused equivalents, but are designed for the fit of a woman, by adjusting waist and waistband height, rise, knees, length and sizing.
"These pants offer a fit and style that is truly developed to a women's specifications and pattern. This is not a men's product with a woman's label on it…Women were wearing men's product because they had to. This was an opportunity for us to expand what we offer for the female officer," Hein said.
The Tactical Pant features 5.11's patented tactical strap and trademark slash pockets, double-thick seat and knees, double and triple-stitch construction, plus bartacking in high-stress areas. Other features include an action waist for superior fit and comfort, Cordura reinforced zones, YKK zippers, Prym snaps and a metal D-ring.
Based on the men's TacLite Pro Pant, the Women's Tac Lite is also made of durable, lightweight and breathable 6.14-oz. poly/cotton ripstop for enhanced fade and wrinkle resistance. Standard are 5.11's patented tactical strap, signature slash pockets, an action waist for comfort and fit, a double-layered seat, double/triple-needle stitching and 48 bartacks in high-stress areas.
The Tactical Pants come in charcoal, black, khaki, brown, OD green and fire navy in sizes 2 through 20 while The Tac Lite Pro Pant is available in black, TDU khaki, TDU green and dark navy in sizes 2 through 20. Both are priced at $39.99
Because of the positive reaction to their women's pant line, 5.11 Tactical is also about to announce the release of women's tactical shorts and polo shirts for an early 2010 release.
5.11's tactical women's pants are available though their website: www.511tactical.com. 5.11, Inc., which has been creating apparel since 1977, creates and delivers comprehensive gear for law enforcement, military and firefighting professionals.


Request product info from top Female Police Officers companies
Thank You!