How to buy body armor (eBook)
Body armor can mean the difference between life and death for officers, but the process to purchase it has some major challenges
---
To download your free copy of "How to buy body armor (eBook)" Buying Guide from Police1, fill out this form.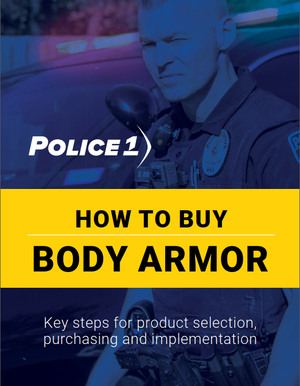 Body armor is essential personal protective equipment for every law enforcement officer, regardless of their assignment, work location or rank in the organization. Plain and simple, body armor saves lives every day.
Whether the protective panels are inserted into a covert carrier worn under a uniform shirt, a carrier which looks like a uniform shirt or a load-bearing tactical carrier, body armor has the same mission. It needs to fit securely, protect vital organs and remain comfortable as an officer sits in a patrol vehicle, walks a neighborhood street, serves a subpoena or pursues a fleeing suspect on foot.
Given the range of use cases and ongoing advances in design, materials, manufacturing and testing standards for body armor – not to mention the variability in body shape – the process to research, test and procure body armor is complex.
This Police1 guide to buying body armor – whether you are leading a body armor purchase for the first time or are an experienced purchasing decision-maker – is a starting point for the several months or more purchasing process.
Included in this guide: 
Key considerations before purchasing body armor
Body armor top implementation considerations
Questions to ask body armor vendors (with company directory)
To download your free copy of the How to Buy Body Armor guide from Police1 fill out this form.