Officer financial wellness needs to be addressed – here's why
A topic that's rarely discussed, debt-related stress can take a toll on cops
---
Sponsored by Americor
By Courtney Levin, Police1 BrandFocus Staff                                                                 
In recent years, the topic of wellness among law enforcement officers has become more and more prevalent. From in-depth cardiovascular evaluations to programs that aid with mental health, cops have more resources at their disposal than they likely have ever had before.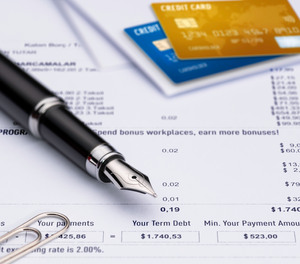 However, there's one aspect of overall wellness that tends to be overlooked, and it can make a huge difference when it comes to job performance – financial wellness.
It's smart to plan for unexpected expenses, but cops can't even begin to think about future financial plans when they're consumed with debt. Whether it's the rising costs of child care, the need to replace a vehicle or unforeseen medical bills, it's easy to suddenly find yourself scrambling to make ends meet.
In a time where being in debt is often a well-kept secret, there are resources to help cops regain financial stability. The impact of debt-related stress is deeper than many realize, but programs like those offered by Americor Debt Relief can help.
THE DANGERS OF DEBT
Trying to get out of debt feels like an unsolvable puzzle. No matter how many times you calculate how to get ahead, finding a solution often becomes a never-ending search. This mental strain can create prolonged levels of stress that can significantly affect a cop's health.
"Having financial stability is one of the most basic essential needs," said Dr. David Farcy, chairman of the department of emergency medicine at Mount Sinai Medical Center in Miami Beach, Florida. "For anyone to be of clear mind and to operate at their peak ability, they need to know that their basic needs are met."
Many cops see making more money as their only option to financial stability, but this too can lead to serious concerns.
"Officers struggle trying to make ends meet, especially early on in their career," said Don De Lucca, retired chief of City of Doral PD in Florida. "They accumulate debt, so they take second jobs. Some of them will work 24, 36, maybe even 40 hours extra per week to try to make ends meet. That affects their wellness – their ability to come to work and give 100% to do their job properly."
Unfortunately, being preoccupied while on duty can result in dire consequences. There's no room for the mental distraction of overwhelming debt in a role where situational awareness and thinking on your feet are required to ensure safety.
TOOLS FOR FINANCIAL WELLNESS
Getting out of debt can be challenging. Credit card companies often encourage making only the minimum payment each month while compounding sky-high interest rates, resulting in a situation that makes it incredibly difficult to get ahead.
Cops with varying kinds of debt do have a solution available – one that may even prevent them from having to work extra hours just to pay down their financial obligations. Americor provides law enforcement officers with options to manage their finances and has worked with individuals to relieve more than $2 billion in debt.
Americor offers multiple options that can be tailored to each officer's specific situation:
Debt settlement can be helpful for large credit card balances, medical bills or personal loans that seem impossible to pay down. Americor will negotiate with your creditors on your behalf and arrange to reduce the amount you owe, sometimes by as much as 50%, while forgiving the remainder of your debt. Once a debt is settled, the high interest stops for good, saving you thousands of dollars and years of interest payments.
Debt consolidation loans work to combine multiple high-interest debts into one convenient monthly payment. The key to this option rests in the significantly lower interest rate that these loans are often able to secure, making your dollars stretch further toward paying off your balance.
Keep in mind that every officer's financial situation is different and there is no one-size-fits-all solution to manage your debt. The team at Americor can work with you to create a plan that best meets your needs and relieves some of the stress related to your finances.
STARTING THE JOURNEY TOWARD FINANCIAL WELLNESS
Just like any other aspect of health and wellness, the first step toward improving your financial well-being is the most important. Not only does every law enforcement officer deserve to get out of debt, but the benefits of reducing the stress related to finances can be monumental.
"I wish this program was available when I was a chief to be able to offer it to those officers that have fallen into that hole and are struggling with their finances and in over their head with debt," said Ray Martinez, retired chief of Miami Beach PD. "It gives them an option to get them out of debt quicker and to be able to restore their financial health, because that's going to help them on the job."
Visit Americor for more information or call 855-220-2493 for a free debt analysis.

Request information from Americor
Thank You!