This company is built on values, protecting valued public safety gear
TruckVault's success is rooted in meeting the unique needs of every customer
---
Content provided by TruckVault
By Julia Hanna
Shane Branham, Southeast public safety regional manager, embodies TruckVault's values of reliable security, adaptive design and customer-first service. He understands that finding the ideal secure storage can feel overwhelming with all the options available and he is able to reassure his customers that he's there for them and all their unique needs.
See what Shane has to say:
Adaptive Tools for Work-Life Balance
As a former member of South Carolina's Department of Public Safety, he understands the need to balance gear both on and off duty, and he brings that passionate approach to every interaction he has on TruckVault's behalf. Our goal at TruckVault is to ensure that transition between on-and off-duty is seamless while safeguarding department equipment. From toting gear in marked, unmarked and personal vehicles to ensuring secure and efficient storage for recreational gear while off duty, TruckVault is here to deliver. Shane has lived that work-life balance during his time in SCDPS.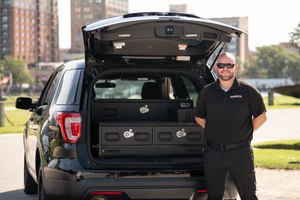 Security: Reliable and Durable Vaults for Vehicles
The value of security can never be under stated. Shane explains that he views TruckVault as the "standard of security," and that's not just because of our high-end locks, slam latches or durable construction. It's because he – and others at our company – design the vault based on the needs and gear of the customer. When transporting delicate and potentially dangerous gear, Shane understands that security and efficiency comes first. Therefore, he takes the time to ensure that each design is optimized for the vehicle and gear. Quality craftsmanship is a cornerstone of the TruckVault's success. Building durable, reliable and luxurious secure-storage solutions is what we do every day.
Serving Our People
The backbone of TruckVault's success is our team's willingness to listen to the needs of our customers. We pride ourselves on customizing any unit to meet the needs of our customers. With vehicle shortages plaguing our nation and first responders, TruckVault adapts to fit the need of any vehicle on the road. Shane explains TruckVault's custom capabilities perfectly. "Tell me what you need, and we'll come up with a design." Every department is unique, and many roles require different configurations to provide secure storage for the necessary gear in tow. That's why from sales to engineering to manufacturing, a TruckVault employee will ensure the same quality and security offered in our standard models is present in a custom unit, too.
Go to our consult page to talk to Shane or any of our other Public Safety Territory Mangers.

Request information from TruckVault
Thank You!