Armorer Link's New Solution for Mitigating Misplaced Firearms, Turns Heads at the 46th Annual NW Leadership Conference
---
Portland, OR - Armorer Link Inc. was welcomed as the newest vendor to exhibit at the Northwest Leadership Seminar. This event was hosted by the Oregon Fire Chiefs Association and was attended by over 700 leaders from law enforcement, fire departments, 911 dispatch, and other public safety leaders. This year's seminar theme was Veteran Leadership and Anne Bendig, show coordinator from the Western Fire Chiefs Association commented, "Armorer Link was a great addition to the show. Everyone was impressed by a new solution to manage risk."
The ArmorerLink solution is a set of tools integrated into a unique cloud based software package that law enforcement agencies use to set structure and procedures for the tracking, training and maintenance of firearms and equipment. The solution is affordable for smaller agencies which comprise well over 50% of the law enforcement agencies in the United States. It enables automation of many tasks now done manually, saving time and money for agencies, while increasing accountability and reducing liability. The software is low cost, intuitive and recommended by insurance companies.
Throughout the seminar Armorer Link CEO, Joe Ganete, and other representatives met with key individuals in the public safety community. This solution was embraced as a new, effective way to mitigate risks associated with the management of firearms and was quickly endorsed.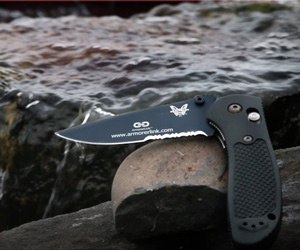 Armorer Link also held a drawing for an Armorer Link logo knife and on Friday March 6th, Kim Sunderlin a logistics assistant for TVFR (Tualatin Valley Fire & Rescue) was welcomed on stage as the winner!
About Armorer Link
Many decades of experience from several industries are the strength behind Armorer Link, Inc. The executive team offers a strong blend of law enforcement and business expertise. We have built strategic partnerships with a wide range of organizations and industries that enable us to offer superior solutions. We have a solid network of Account Managers and a lean business model to work with our customers. More than five yearswas spent on research and development before forming Armorer Link, Inc. and officially launching.

Request more info from Armorer Link
Thank You!